Tackling local societal challenges through science
Bringing science, technology and innovation to places that normally do not have access to these areas of knowledge. This is the goal of the first Open Science Hub in Portugal, founded in 2017 in collaboration with Leiden University. The hub is managed by assistant professor of astronomy and society Pedro Russo. As it is part of the Horizon 2020 project SciShops.eu, several partners including the Citizen Science Lab of Leiden University visited the hub in February 2019.
Remote communities
'We are sharing and co-creating knowledge and expertise with remote communities so they also can benefit from this,' Maria Vicente, coordinator of the Open Science Hub-Portugal explains. This hub is in the low-population territory of Barca d'Alva, at the border of Spain and Portugal with only twelve inhabitants per square kilometre. 'It has limited access to science, technology and innovation; there is low collaboration between schools, jobs, communities and families. Also, there is little innovation and entrepreneurship and a lot of young people leave the area, without returning,' Vicente says. But there is an advantage of being in such a low-density community, she emphasizes: 'Having direct contact with people is easier.'
Active at schools
'The strategy is always to focus on a global challenge that is also locally relevant. Then we select an annual theme and organise activities and an exhibition around this theme at the hub. Currently, this is climate change,' Vicente says. But aside of working within and around the hub, Vicente and her team are also active at school. 'At schools we have a more bottom-up approach, where students can think about local challenges and what is important for them.' This resulted in two themes pupils are now working on: the wellbeing of animals and teen pregnancy. 'So last week we organised a session with local stakeholders on the topic of animal wellbeing, with for example conservation biologists, the local veterinarian, a hunter.'
Open Schooling
Engaging and sharing with the community and other projects is important for the team. By following an open schooling strategy, they organise activities around the topics that were chosen at school, also outside the school. Every month there will be a programme around one of these topics and a speaker is invited for several activities. 'The speaker will do an activity at school, there will be a "careers lunch" where teenagers can have an informal lunch with this speaker about their expertise and career path. Also, there will be a science café with the community and an outdoor activity. These outdoor activities can be one of the citizen science projects the hub is involved in, focussing on invasive plants or insect biodiversity for example.'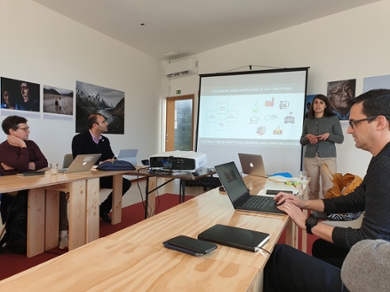 'Leiden University really improved our projects'
The hub is a collaboration between Leiden University and the Municipality of Figueira de Castelo Rodrigo. Its mayor, Paulo Langrouva, is enthusiastic about the hub because it offers the municipality a closer relationship with the community and resolve some of their problems. He is also looking forward to collaborating with other projects in the European project SciShops.eu and the Leiden University's Citizen Science Lab. 'Working together with Leiden University has really improved our projects and the more open this project is, the more people will benefit.'
Header image (GIX): Team of the Open Science Hub-Portugal with the visiting partners of the SciShops.eu project and the mayor.
The Citizen Science Lab is an incubator and hub for innovative Citizen Science projects, connecting society with science by co-creating research. The lab is coordinated by Leiden Observatory and the Department of Science Communication & Society of Leiden University. It received funding from the European Union's Horizon 2020 projects SciShops.eu and EU.Citizen-Science.