Record number of visitors to Bachelor's Open Day: 'My mum misses me already'
What can you expect from studying in Leiden or The Hague? Which programme should you choose? Should you join a student association and will you need to find a room? Over 8,000 prospective students showed up at the Leiden University Open Day: a record. Here's what some of them had to say.
Sandie Helena (24), from Luxembourg
'I'd like to study English and have two options: Holland or Scotland. Holland is not that far from Luxembourg, so if I study here, it'll be easier to see my family. I also have relatives in Holland, so I think Holland will be the right choice. I might go somewhere else for my master's, but I'll start in Leiden. Today is my very first time in Leiden and I really like it. I arrived yesterday and had a look around and thought this would be a good city to live in. It's a colourful city and the people are very friendly. There are many museums, which I like. I saw the Pilgrim Fathers Museum, for example – you know, the Founding Fathers. That really sparked my interest. I always want to know more about history. Later on, I want to work in development, so I think one of two courses would be good: International Studies or Cultural Anthropology & Sociology Development. You do economics and politics in International Studies, whereas in the other you learn more about how to tackle today's issues. I'll have to decide soon.'
Olivier (16), from Hulst
Olivier has been to Leiden once before, with school. This time he has come with a friend to find out more about the Law, History, and International Relations and Organisations programmes. He has just been to the presentation on the Law programme. He found it inspiring. 'They discussed a case that was very topical. That's what makes Law so interesting: the programme gets right up close to society.' He's still unsure whether it'll be Leiden or Amsterdam, but Leiden scores higher. 'Lots of my parents' friends studied in Leiden and they're always really positive about it. Compared with Amsterdam, Leiden has the advantage that it is a real student city, whereas Amsterdam is not just a student city but more than anything a tourist city. Leiden is more compact, which I think makes it more sociable.'
Laith (20), from Syria
'To start with, let me tell you I'm kind of lost in Holland. I came here one-and-a-half years ago as a refugee from Syria. The trip wasn't easy to be honest. I travelled to Saudi Arabia first and then to Ter Apel. It was horrible! But I'm now living in IJsselstein in Holland and I hope to build a future here. So today I'm looking for a programme that will suit me. I heard that Leiden University had an Open Day today. I also heard that Leiden is famous for international studies. I think that studying in Leiden would be a good opportunity for me. I'm thinking of something to do with medicine, but am also interested in Liberal Arts and Sciences, Psychology and International Studies. At the moment, I'm studying Dutch, but I hope to be in Leiden in September. I love the city – lots of young people and great architecture.'
'Djaella (16), from Rotterdam
'Djaella was Dutch champion in the open 50 class at the NK Junior Moto Racing last year. She's a real daddy's girl, but has come to Leiden with her mother today to explore her options for the future. She's not sure whether to do Psychology or International Studies. 'I've always been interested in the rest of the world, but I also want to learn about how people think and act.' Why does she want to study in Leiden rather than Rotterdam? 'My sister is also studying in Leiden and she always says that it's really great here. I want to find a room. My parents want me to stay at home. My mum misses me already, don't you Mum?'
Nausicaä (20), from Trinidad
'I went to see the stands I was interested in, in the Pieterskerk, and so far it's been good. I've got a lot of information from second-year students, for example. That's nice. I'd like to study Psychology in Leiden. I'm interested in how people think and behave. I think that is relevant to all aspects of life. What do I make of Leiden? I'm not familiar with the city yet, but it looks cute. I like the buildings and also the fact that Leiden is very student orientated. At the moment, I live in The Hague. They're trying hard to make it a student city, but the facilities like libraries are more student friendly in Leiden. I'm planning to go op kamers as the Dutch say. It also looks fun to be part of a student association, but I'm afraid of the initiation. I've heard the most horrible stories about it. What did you call it? Oh no, I can never pronounce that: ontgroening!'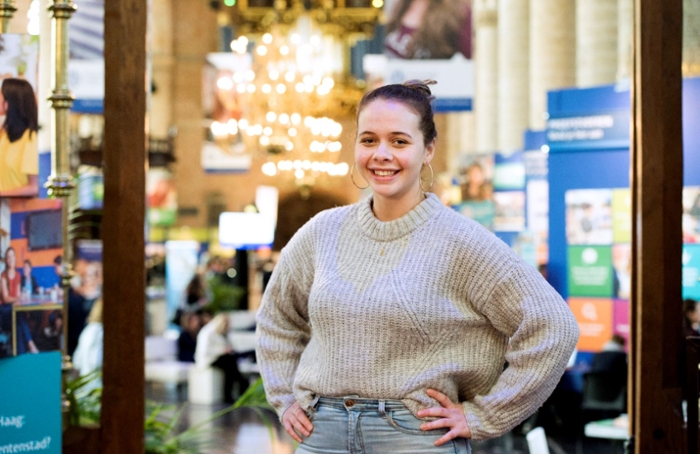 Britt (17), from Wijk bij Duurstede
A description on the internet of the Biomedical Sciences programme grabbed Britt's attention. She's really interested in the human body, and wants to find out how diseases work. What about Medicine? 'I'm definitely going to look at that too, but I don't know if I'd able to cut into a living person. So my preference now is for Biomedical Sciences. It's a relatively small programme, I understand. That means you know everyone, and makes it easier to do joint projects.'
Been to the Bachelor's Open Day and want to find out more about a programme?
Come to an Experience Day on 28, 29 or 30 March!
More information