Last ILS Lunch Seminar of 2018 on Global Tax Governance
Last Thursday, the final ILS Lunch Seminar of 2018 took place. Irma Mosquera Valderrama, Adrián Grant and Frederik Heitmüller gave two very insightful presentations on Global Tax Governance, part of the EU-ERC project 'A New Model of Global Governance in International Tax Law Making' (GLOBTAXGOV).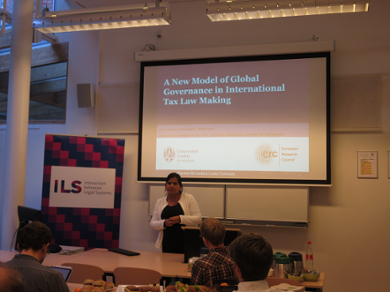 Irma Mosquera Valderrama, Associate Professor of Tax Law and Principal investigator at GLOBTAXGOV, started with the first presentation on the GLOBTAXGOV project. This project receives funding from the EU H2020 Research & Innovation Program and from the European Research Council. She defined the central question of the project as 'Under what conditions can the OECD-G20 and the EU models of global tax governance be feasible and legitimate for both developed and developing countries?' By looking at the transplant of four Minimum Standards in twelve different countries in continents all around the world, Irma and her team hope to find an answer to this research question. In her presentation Irma also shared some unexpected barriers, such as ethical considerations. Furthermore, she explained the current output of the research program.
The second presentation was given by two PhD fellows, who work together with Irma on the GLOBTAXGOV project and are also under her supervision. Adrián Grant and Frederik Heitmüller gave the second presentation together, explaining Global Tax Governance in light of the OECD BEPS Project. This project consists of an international framework to combat tax avoidance by multinational enterprises ("MNEs") using base erosion and profit shifting tools. Frederik and Adrián presented their analysis of the Minimum Standards of the BEPS Project in terms of legal transplants, using extensive diagrams to show the influence of the political, social and cultural context. This enlightening analysis could solve many questions regarding the effectiveness of Minimum Standards, their interaction with the jurisdictions in which they are implemented and identify legitimacy issues of the OECD and the EU regarding their position in the current Global Tax Governance Model.
The next ILS Lunch Seminar will take place on Thursday 14 February 2019, from 12:00 - 13:00 hrs in KOG B0.13. Would you like to present yourself and your research? Do not hesitate to contact our ILS student assistant! More information on ILS 2.0 can be found on our website.