Keuzegids recommends three 'top study programmes' at Leiden University
The Leiden bachelor's programmes in Linguistics, Religious Studies and Ancient Near Eastern Studies have received the accolade of 'top study programme' in the Keuzegids (Study Guide) 2019 for Universities.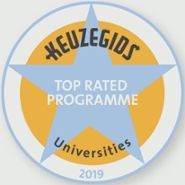 Top study programme
Linguistics is highly recommended as 'a true top study programme, whose challenging curriculum is grounded in firm foundations'. The Keuzegids also praises Religious Studies, saying: 'Leiden deserves an extra compliment for the cohesive programme'. And in Ancient Near Eastern Studies the students learn 'how to carry out independent research, and they practise critical reading and writing'.
Leading the field
Russian Studies heads the rankings in its discipline. Students describe their Russian Studies teachers as having 'strong teaching skills, and the supervision they give is fantastic'. The course also has 'excellent feasibility' and has received high praise from the experts at the Accreditation Organisation of the Netherlands and Flanders (NVAO).
Source: Keuzegids 2019 for Universities
The Keuzegids is an independent consumer guide to study programmes. It brings all the bachelor's programmes in each discipline together in one place to make it easy for prospective students to compare their options. Programmes that receive exceptionally good scores are given the accolade of 'top study programme'. The guide bases its results on several sources of information, including students' opinions (using the National Student Survey) and assessments by experts (NVAO).