Student Igor Djakovic awarded Raymond and Beverly Sackler Scholarship
Igor recently started his research master's in Archaeology. Now he is awarded the prestigious Raymond and Beverly Sackler Scholarship. The scholarship is given to promising master's students and PhD candidates and Igor is the first student of Archaeology to receive the grant. We interviewed Igor about his background and plans for the future.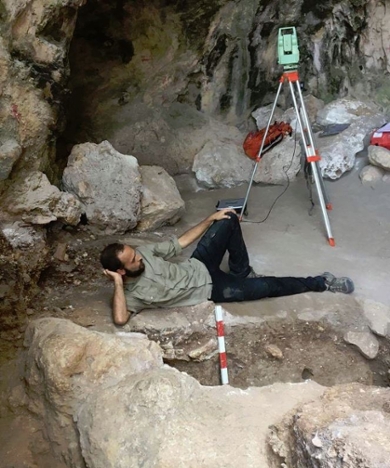 What is your background?
"After an admittedly failed career as a musician and a fleeting foray into journalism, I discovered an old stack of National Geographic magazines that was gifted to me by my Year 4 teacher after I had proclaimed "one day, I think I want to be an archaeologist". I enrolled into the University of Queensland, Australia - and in June 2017, graduated with an extended major in Archaeology and minor in Philosophy.
That same month, I bought a one way ticket to Europe, packed a backpack, and threw caution to the wind. I spent July, and the day of my graduation, excavating at Les Cottes in France, August at Sefunim Cave in Israel, and September at Le Moustier in France. I was fortunate enough to spend the next three months at the Leiden University Faculty of Archaeology for an internship, and the following three months at the Max Planck Institute for Evolutionary Anthropology. From a train seat somewhere along the way, I submitted my application for the research master's programme, and shortly after returning home - received some amazing, and admittedly unexpected, news."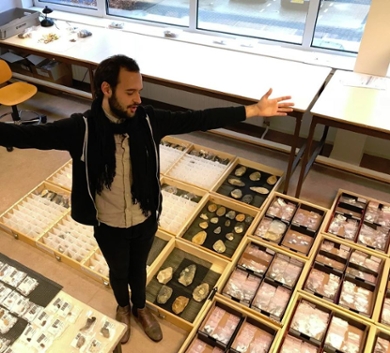 What are you going to do here in Leiden?
"From the onset of my studies, my area of focus has been Palaeolithic archaeology - with a
specific interest in the lithic record during the Middle to Upper Palaeolithic transition in western
Eurasia and the question of anatomically modern human-Neanderthal interaction. With recent
advancements in genetics, it appears that these two populations not only had contact, but
interbred in the past. It seems reasonable, then, that signals of this contact could be visible in the
material culture left by these populations - but their visibility is in large part conditional on
researchers asking the right questions. I have just started a research master's within Human
Origins at the Faculty of Archaeology, and this area will be my research focus."
How do you feel about being awarded the Raymond and Beverly Sackler Scholarship?
"I was fortunate enough to be submitted for consideration for the Raymond and Beverly
Sackler Scholarship by the Faculty of Archaeology in Leiden, and even more fortunate to be
awarded it - an honour the magnitude of which is certainly not lost on me. However, and of critical
importance: I am not special. It is essential to remember that opportunities are everywhere - don't
ever fool yourself into thinking they are reserved for others and out of your reach. Without them, I
wouldn't be here. And for those that made it possible: it doesn't go unnoticed, nor unappreciated."
What are your plans for the future?
"I must preface this response with the following statement: If I have learned anything over the past 18 months, its to have some loose plans - but don't let them give you tunnel vision. My immediate plans are to make the most of this incredible opportunity: enjoy my time here, the company of the amazing people, and the fact I'm doing what I love.
This being said, if I was forced to give an answer, I would say that my intention is very much to pursue a career in academia. One day I would love to teach. More passionate, kind, and enthusiastic teachers is surely something the world wouldn't suffer from. The simple fact I'm currently writing that proposition is a testament to those who have had a positive influence on me, for which I am eternally grateful. With some hard work, hopefully one day I will be able to pay it forward."
About the Raymond and Beverly Sackler Scholarship
The Leiden foundation Endowment for the Raymond and Beverly Sackler International Scholarship Fund (Sackler II) provides financial support in the form of grants to talented master's students and PhD candidates. The committee is headed by Leiden University Director (Rector Magnificus) Carel Stolker.