200 years of archaeology in the Netherlands
Two hundred years ago Caspar Reuvens was appointed as the first professor of archaeology in the Netherlands. He was to lay the basis for both the National Museum of Antiquities and the Faculty of Archaeology at Leiden University. To mark the occasion, the faculty is organising an anniversary lecture on the future of archaeology to celebrate Reuvens' achievements. Nobody before or since Reuvens has focused so much attention on the future of our past.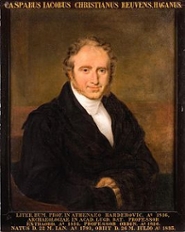 25 years
Caspar Reuvens' appointment in 1818 followed on from his development of new scientific techniques for recording archaeological finds. He was just 25 years old, but had already made his career in classical languages. Having visited famous museums in England and France, he became fascinated by antique and prehistoric artefacts and became a specialist in archaeology.
Roman Voorburg
Reuvens' contemporaries were primarily interested in the classical Mediterranean world and Egypt. But Reuvens himself was intrigued by the archeology to be found under Dutch soil. Between 1827 and 1834 he headed the first and only large-scale archaeological excavation in the Netherlands: the uncovering of the Roman settlement Forum Hadriani (Roman Voorburg). Thanks to his precise methods, later generations have been able to formulate new interpretations of these discoveries.
Building on Reuvens' legacy
The Leiden Faculty of Archaeology builds on Reuvens' legacy on a daily basis. The faculty is known for its innovative, interdisciplinary research and has an excellent reputation. The broad array of research techniques, from drone photography to analysing ancient DNA, and its regional expertise ranging from pre-Columbian America to the Middle East, makes the faculty one of the world's strongest archaeology institutions.
Anniversary lecture
To celebrate this anniversary in the spirit of Reuvens and his work, the faculty is organising a lecture on the future of archaeology, to be held in the National Museum of Antiquities. The lecture will be given by Dr Margarita Díaz-Andreu (University of Barcelona), an expert in the history of archaeology. Everyone is welcome to attend the lecture on 10 October, starting at 20.00 hrs.