LIACS and MI welcome 70 global optimization specialists
The 14th International Global Optimization Workshop (LeGO 2018) was hosted by Leiden University in September.
Michael Emmerich and André Deutz from the Leiden Institute of Advanced Computer Science (LIACS), Sander Hille from the Mathematical Institute of Leiden University (MI) and Yaroslav Sergeyev, president of the International Society of Global Optimization (iSoGo), welcomed seventy global optimization specialists at the Snellius and Poort Building in Leiden.
The four-day workshop brought together leading experts and young researchers from computational science and mathematical optimization, sharing the newest insights on solving difficult non-convex optimization problems.
The program featured a special track on Multiobjective Global Optimization, organized by Iryna Yevseyeva of the De Montfort University in Leicester, United Kingdom.
Keynote Speakers at LeGO 2018 were:
Sergiy Butenko from Texas A&M University, USA
Kaisa Miettinen from the University of Jyväskylä, Finland (pictured below left)
Panos M. Pardalos from the University of Florida, USA (pictured below right)
Yaroslav D. Sergeyev from the University of Calabria, Italy
Antanas Žilinskas from Vilnius University, Lithuania
The detailed program and official website can be found here.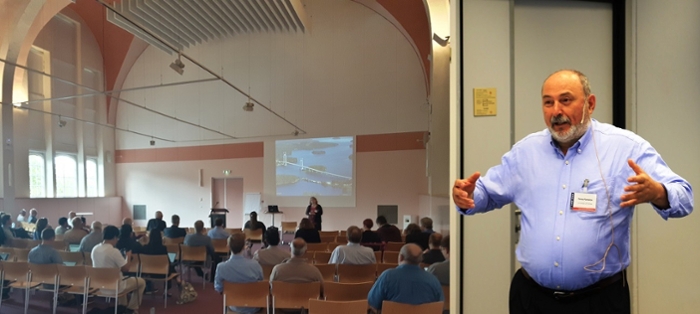 LeGO 2018 was sponsored by LIACS, MI and the Leiden University Fund/Fonds Van Trigt.