Master of Laws: Advanced Studies Programme in European and International Business Law: 25 years jubilee celebration
On 25 August 2018, the Leiden Adv. LLM Study Programme in European and International Business Law (EIBL) celebrated 25 years of its existence.
Two people in particular predominately stood out at the beginning of the programme, which was then called "LLM in European Community Law": Prof. Piet Jan Slot (now retired from Leiden University), who founded the programme, and Dr. Robert Lane (Edinburgh University) who then taught European Community law in the programme. The programme was founded at a time when, in the framework of the regular study programmes, there was no possibility to specialise in the field of European Community Law at Leiden University. It attracted students from all over the world who wished to obtain such a specialisation. Over the years, the programme has developed further, adding in particular a focus on business law and including selected international law elements. The philosophy behind the programme is to prepare business lawyers for work in a world of multilevel jurisdiction, where national, regional and global rules interact, with a particular emphasis on the law of the European Union which, from a business law perspective, is the most important regional legal regime in the part of the world where Leiden is situated.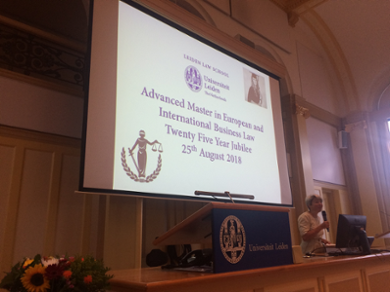 The celebrations of the 25 years jubilee included both an academic and a social part. In the academic part, programme graduates as well as staff gave lectures on the subject of "Joining and leaving the EU" (Prof. Dr. Christa Tobler: General introduction; Dr. Narin Idriz: The flesh and bones of EU enlargement process; Mr Daniel Dosza: Member States that have joined the EU but maybe should leave; Mr Daniel Carter: Brexit – present challenges in the UK; Dr. Armin Cuyvers: Brexit – constitutional challenges for the EU and Çağrı Yilmaz: The UK's falling out of the Ankara Agreement). The lectures were followed by a discussion with the audience.
Following the conference, a bus took the party of approximately 90 people to the North Sea, where the celebration continued at the beach restaurant Nederzandt, close to Noordwijk. Whilst the somewhat changeable weather made it difficult to engage in the beach games and longer walks, as originally planned, the guests still took (shorter) walks, swam in the sea and there was a pub quiz in groups. The taking of pictures in groups at a photo booth caused much hilarity.
Overall, the event not only made possible learning and discussion about the very current legal and political topic of EU membership but, importantly, also meeting and networking among the EIBL graduates. The programme staff plan to hold the next jubilee celebration in five years' time.