Intercultural training in Vietnam
In Vietnam, foreign trade and culture are pervasive. Therefore, the need arises for students to learn more about cultural differences and intercultural communication. Tran Tran's (PhD at ICLON) research focused on improving training in intercultural communication in Vietnamese higher education. Defence on 19 September 2018.
Insufficient intercultural training
Because the presence of foreign trade and culture in Vietnam has increased, Vietnamese employees feel the need to upgrade their intercultural communication skills to keep pace with this development.
In the context of teaching English in Vietnam in general and in the Mekong Delta in particular, most English curriculums for non-major students do not include intercultural communication skills enhancement. Specifically, in the context of Can Tho University of Technology, all the English courses do not touch intercultural communication skills. Students report they need more training of language skills and more knowledge of the cultures of people they are working with or might be working with in the future.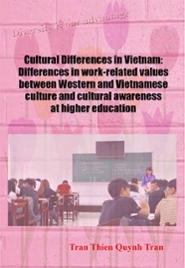 Results
The results have shown significant differences in work-related attitudes and in intercultural communication problems and concerns between Vietnamese employees and Western higher managers. For example, sense of time and face-concern are the two main grounds for conflicts and misunderstandings between Western and Vietnamese professionals.
The findings from the exploration studies made it clear that cross-cultural training is needed to train students in higher education. An experimental study on intercultural communication instruction showed that practicing with complex communication situations is an effective approach to change a person's awareness and enhance their skills.
With the information collected in the studies in this dissertation, a contribution to the intercultural communication research body can be made by creating a manual for composing intercultural communication curriculums, not only for higher education training but also for employee and employer coaching.