Enthusiastic start to EL CID
More than 3,500 enthusiastic Leiden first-years, 80% of them coming to Leiden University, gathered on Monday morning 13 August at the Lammermarkt for the start of the EL CID. Music booming, the groups gathered around their mentors in two shifts, at 9.30 and 11.30.
Around 20oC and alternating between rain and dry. Is this typical Dutch weather after the tropical conditions of recent months? Not everyone has come prepared for the change in the weather, but luckily, the crew has rain ponchos to hand out.
For almost all the participants, the EL CID marks the start of a new life, with a lot more responsibility, both for the study programme and for how students organise their personal lives. They're ready for the challenge and are looking forward to it.
Janienke van Geest – Political Science
Janienke is very interested in politics and follows all the political news. She is also a member of a political party. Political Science was a logical choice for her. She was toying between Leiden and Nijmegen. Why did she opt for Leiden? 'It was a purely practical choice,' Janientje explains. 'I am from Monster (a town in the Westland area) and although I want to come and live in Leiden in time, I'll be commuting at first.' What are her expectations of the EL CID? 'Having a lot of fun and getting to know the city. She's already chosen her student association: 'I'm going to join NSL.' That is the Leiden Navigators Student Association, an open Christian association.
Tom de Beer – Bioinformatics
There is some confusion: is Bioinformatics a separate programme in Leiden? It must be because Tom is going to be studying it. There's no need to explain student life to Tom becaue he's already been a student for the past two years in Delft. But the programme he was doing there wasn't right for him. Tom is a real science lover, his main interests being biology, maths and physics. 'My choice of programme isn't based on any future plans,' he explains. 'After Delft I just looked for a programme where I could combine the things I like doing.' Tom comes from Tilburg, and Leiden is completely new for him. He's hoping to make new friends and to find a student association that appeals to him: 'I'm completely open to any kind of association.' He also needs to find a room. 'I hope I find a room soon because it's two hours by train from Tilburg!'
Marnix Meeuwis - Law
Marnix already knows that he is going to join Minerva, so there's no need for him to look at other student associations. He's also hoping to find a room in a Minerva house. In terms of his study programme, this very tall, red-haired first-year student of Law wants to go in the direction of business law. Marnix is from Breda. 'So far I know absolutely no one in Leiden,' he says. But that wil soon change. Marix makes a relaxed impression. He's looking forward to the EL CID, although he won't be taking part in all the activities. 'I'll see what appeals to me.'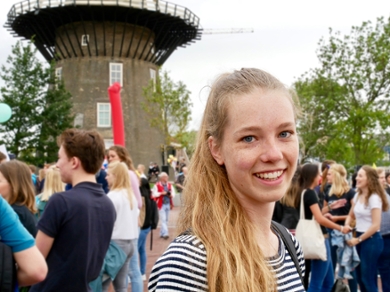 Suzanne van Zwol – Life Science and Technology
For some students EL CID is not their first introduction to the study programme: Suzanne has already been to the first-years weekend for her Life Science and Technology (LST) programme, but she's still enthusiastic about EL CID. She's a bit apprehensive, 'but that's all part of it.' LST is a combination programme with TU Delft, and Suzanne will travel regularly from Leiden, where she has a room, to Delft. She's not worried about the commuting. 'The programme just really appealed to me.' In the EL CID Suzanne wants to ook for a study association to join, although it won't be a social club.. 'I'm mainly looking at the sports associations.'
Text: Corine Hendriks
Photos: Sybren Dallinga
Videos: Sean van der Steen