Looking back on the successful combined ILS – RSL Lunch Seminar with Jason Beckfield from Harvard University
Last Wednesday, a very special edition of the Lunch Seminars took place in a combined session between the research programs Interaction between Legal Systems and Reform of Social Legislation. Jason Beckfield, Professor in Sociology at Harvard University, gave a very interesting presentation on Social Policy and ECJ Jurisprudence.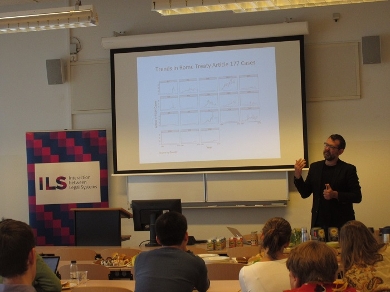 Prof. Beckfield, whose presentation was titled "The Welfare State Meets European Integration: The Place of ECJ Jurisprudence in Retrenchment and Convergence", based his findings on a dyadic longitudinal analysis of multiple measures of social policy. In his presentation, he used this empirical data together with his knowledge of the existing EU legal framework to come to conclusions about retrenchment and convergence of welfare states both within and outside of the European Union. Beckfield states that, from 2004 onward, the neoliberal notion of 'technocratic capitalism' was constitutionalized in the European Union. This concept, which Beckfield explains as the idea that markets are the best tool to solve social and political problems, is mainly institutionalized through rulings of the European Court of Justice, but also through measures as soft law ('the open method of coordination'), convergence criteria following the single market program and the introduction of the Euro. At the level of the EU welfare states, contradictions between welfare states and market technologies emerged and grew, leading to both retrenchment and convergence in the Member States.
Beckfield's presentation was based on one of the tentative chapters from his new book "Unequal Europe: How Regional Integration Reshaped the Welfare State and Reversed the Egalitarian Turn" (working title) which will be printed by Oxford University Press in the end of 2018.
The last ILS Lunch Seminar of this academic year will take place on Thursday 14 June from 12:00 - 13:00 in KOG B0.13. This seminar will feature presentations from Prof. Pim Rank on "Custody and Asset Segregation under MiFID II" and Prof. Barend Barentsen. There is no need to register and lunch is provided.
Would you like to present yourself and your research? Do not hesitate to contact our ILS student assistant! Please click on the hyperlinks for more information about RSL and ILS 2.0.