Students take a look at the Bio Science Park Neighbours
Many students cycle past the companies of the Bio Science Park every day, but what actually happens behind those doors? And is there a future there for students after their graduation? The Bio Science Park Excursion answers these questions.
Sixty students took a look behind the scenes of the Leiden Bio Science Park (BSP) companies on 29 November. This park, located directly next to the Faculty of Science, is one of the most successful science parks in Europe. The Bètabanenmarkt foundation organised this business orientation for the third time, for all students who are enrolled in a science study programme at Leiden University.
Entrepreneuring at the Bio Science Park
The morning program of the excursion was all about entrepreneurship. Several alumni presented their starting companies to the students and explained them what they are developing. Afterwards, during an interactive session, alumnus Mohamed Bahida (Molecular Science & Technology / ICT in Business) took a close look at the prejudices about entrepreneurship that students have. 'In my opinion, there is not one specific personality type that is suitable for entrepreneurship. I think it's important to have different people in a team who complement each other.' He also explained that you do not always have to come up with a brilliant idea yourself to begin a start-up: 'It's not just about the idea, it is also about implementation. Sometimes you can use old ideas from others and implement them differently.'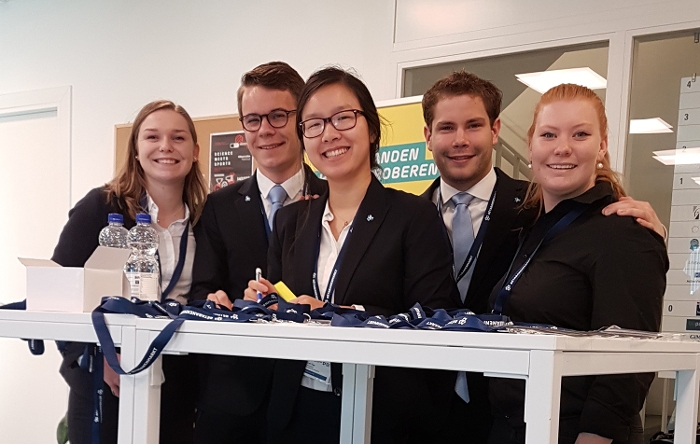 Visiting the companies
After lunch, the students, split into groups, visited six established companies of the BSP. Chemistry student Miriam van Gent graduates in March and is not yet sure if she wants to do a PhD or if she wants to work at a company. 'On the internet you can find information about companies, but that does not give a good enough picture. I think it is important to feel the atmosphere and to talk to people.'
One of the visited companies was Ecolab company Nalco. Marketing director and Leiden alumna Heleen Nieuwenhuis talked about her career following her study Chemistry. She also explained how the Nalco saves billions of litres of clean water in industrial processes around the world. Finally, the students were informed about applying for and working at Nalco and the visit concluded with a guided tour of the labs. Other companies participating in the excursion were Batavia Biosciences, GenomeScan, Galapagos, HAL Allergy and BaseClear.
Network drinks
After the company visits, students and BSP employees could meet each other and talk about the day at the network drinks. 'I always cycle past these companies, but I knew nothing about them,' says fourth-year Life Science & Technology student Judith Teeuwisse. She is happy that she joined the excursion. 'I now know that it can be useful to have obtained a PhD. Some companies have a preference for doctors.'
Harry Flores, chairman of the entrepreneurs' association of the Leiden Bio Science Park and CEO of two different companies there, told the students: 'Do not expect to become CEO within two years.' He, however, emphasized that people with scientific and technological knowledge are crucial for management positions in bioscience companies.
Impression
The 'instastory' below gives an impression of the excursion day. Follow @leidenscience on instagram for more updates about studying and working at the Science Faculty.