Alumna Minke Lok: 'Millions of people hear my work'
Alumna Minke Lok (26) programmes many announcements in various languages at almost all major airports in Europe, including at Schiphol. 'Millions of people around the world hear what I create.'
Alumna: Minke Lok. Job: Language and Audio Developer at AviaVox BV. Studies: BA China Studies and MA East Asian Studies. Graduated in: 2016
Werkgever: Eef Versteegen. Job: Content & Audio Manager at AviaVox BV.
Programming announcements sounds complicated. How does that work?
Minke: "We develop intelligent language systems in 35 different languages for airports across the globe. As a Language and Audio Developer, I programme the announcements based on grammar rules in Chinese – which I studied – and nine other Asian languages. I consult language specialists for the languages I don't speak fluently."
How did you wind up at AviaVox?
"I chose my studies based on my personal interest and didn't have a clear-cut idea of what I wanted to do with it. In the last year of my study, I started searching online for job vacancies. That's when I saw this job on the vacancies site of the Student Career Service. I was immediately enthusiastic and wrote them a letter. It was a lucky shot because I got hired! So, I already had a job lined up before I even graduated."
What part do you like most about your work?
"I like that I make something that millions of people around the world listen to and benefit from. I sometimes meet people on holiday who I let listen to fragments of the announcements and they say: 'I recognise that! That's what I heard on the way here!' That'ss really nice. It is also based on linguistics, so I can really use my study."
Eef, you hired Minke at the time, what are you looking for in new employees?
"We approach languages scientifically. Linguistic insight is very important, but you don't have to master a language completely for this job. However, you do have to master the link between logic and language. In addition, we are looking for someone who also has the social skills to properly supervise the operational process."
Minke, which of the skills you learned during your study programme have you benefited from most?
"I still use the study skills I learned during my study programme. I have to do a lot of research – for example, about how verbs are conjugated in a certain language. In addition, I noticed that studying abroad – I studied in the Chinese city of Tianjin during my programme – helped me with my application, in addition to my experience on the board of the SVS (China Studies) study association."
Eef, does Minke's background in the humanities have added value in the workplace?
'Certainly. The fact that someone can learn a complex language indicates that he or she has insight into the structure of languages. Because Minke studied Mandarin, we were sure that she could also work with other complex languages. During the selection procedure, we presumed that Minke would be the best addition to our team. Fortunately, that turned out to be so.'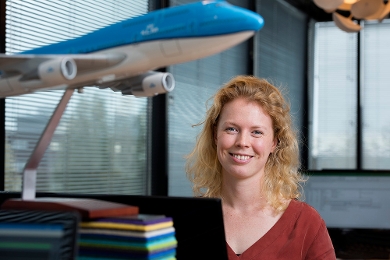 What can you recommend to other students who will soon enter the labour market?
Eef: 'Make sure you know how to apply the knowledge you gained during your studies and can demonstrate that during a job application procedure.'
Minke: 'Extracurricular activities help you with an application, but I also want to add: do something you enjoy. I started studying Chinese out of passion, which meant I was able to get the most from my studies. Passion ensures that you are motivated and really good in your field.'