Professor Dr Isabella H. Ph. Diederiks-Verschoor 1915-2017
Prof. Dr Isabella Diederiks-Verschoor passed away on 17 October 2017 at the age of 102. She was a pioneer of air and space law, both in the Netherlands and all over the world.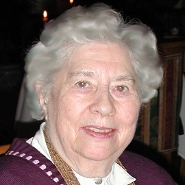 She was born in Amersfoort, the Netherlands on 29 July 1915. She studied law at Leiden University and practised law in Amsterdam for six years. In 1943 she defended her PhD thesis in air law, on the 1938 Brussels Convention for the Unification of Certain Rules Relating to Assistance and Salvage of Aircraft at Sea, at the University of Utrecht. She was appointed as a lecturer there in 1953, and was professor of air and space law from 1979 until her retirement in 1984. One year later, she joined the initiative of Prof. Henri (Or) Wassenbergh, and became the Vice-Chair of the newly established International Institute of Air and Space Law at Leiden University. She served in that capacity until the early 1990s, after which she became honorary board member. She was highly committed to the success of the Institute, and participated in many of its conferences and events.
Her book, "An Introduction to Air Law", was first published by Kluwer in 1982 and its tenth edition was recently authored by the current Director of the Institute, Prof. Pablo Mendes de Leon. Her other book, "An Introduction to Space Law", was published in 1993 and its third edition came out in 2008, while a new edition is currently being prepared by Asst. Prof. Tanja Masson-Zwaan with Prof. Mahulena Hofmann, member of the IIASL Board. Both books have been translated into many languages and still serve as a reference for students all over the world, and the fact that the academic staff of the Leiden Institute continue her work on these seminal books is representative of the warm relationship between Prof. Diederiks-Verschoor and the Leiden Institute, which spanned many decades.
She was instrumental in the establishment of Kluwer's journal "Air Law" in 1975. The scope of the journal was later extended to also cover space law and was renamed "Air and Space Law". Prof. Diederiks-Verschoor served many years on its editorial board, and was thereafter appointed as honorary member. Both Prof. Mendes de Leon and Asst. Prof. Masson-Zwaan are members of the current editorial committee of the journal, and many Leiden alumni regularly publish in it, which is yet another token of the close ties between Prof. Diederiks-Verschoor and our Institute.
Prof. Diederiks-Verschoor lectured abroad extensively, for instance in French-speaking countries in Africa, in Australia, China, Indonesia, and Malaysia. She also welcomed numerous LLM and PhD students from Leiden to her home in Baarn to consult her collection of books and articles on air and space law and invited them for an annual lunch. Many of the Leiden alumni will warmly remember these occasions.
She will be dearly missed by the Leiden air and space law community!
Pablo Mendes de Leon and Tanja Masson-Zwaan
An online register of condolences is open at: http://avanpijpen.nl/condoleanceregister?register=isabella-henrietta-philepina-verschoor