Medieval Cat Paw Manuscript
Cat Paw Tweet Goes Viral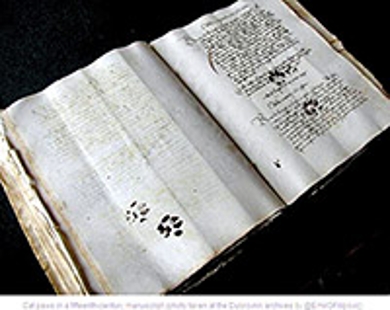 In February, Erik Kwakkel tweeted a picture of a medieval manuscript covered with inky paw prints. The image, originally sent to him by Emir O. Filipovic, who discovered it while working in the archives of Dubrovnik, became an instant sensation online, turning up on blogposts, Twitter newsfeeds, facebook, and flickr streams. To read more about the manuscript (and how it went viral), see the following links:
Cat-Themed Blogpost Proves Popular Among Readers
Following the internet cat-paw sensation, Thijs Porck (Leiden University) was invited to write a guest-post on the project's manuscript blog, Medievalfragments.
His post titled "Paws, Pee, and Mice: Cats among Medieval Manuscripts", recounts stories of animals interacting with medieval manuscripts. One particularly funny story (complete with an image) describes a manuscript that had been peed on by a medieval cat. Like the cat-paw manuscript tweet, Thijs's blogpost caught the attention of internet readers around the world. To date, his post has been viewed over 22,000 times.
#ManuscriptZoo
In response to this growing interest in medieval animals, Erik Kwakkel posted a series of "animal-themed" images to his Twitter photostream. The Toronto Review of Books re-posted the image stream to their website, and it can be viewed here.
In recent weeks, the "animal-manuscript" discussion has also appeared in print, with articles published in both Dutch and international Newspapers. See the PDF links below to read more.