New international students explore Science Campus
No less than 172 international master students coming from 30 different countries visited the Faculty of Science on 29 August during the OWL: the Orientation Week Leiden.
Looking for love
They hope to get a degree, but also to become happy in love. During the welcome meeting in the Gorlaeus Lecture Halls the students used an app on their mobile phones to submit their answers to the question what they hope to have obtained by the end of their studies in Leiden. The answers appeared live on screen, varying from 'a degree' to 'love'.
Most students from China
Next were the countries of origin of the new students. Most students appeared to originate from two countries: Germany and China. For a while the race was tight, but in the end China was the clear victor with the most students. Also, 15 Dutch OWL participants were new to Leiden.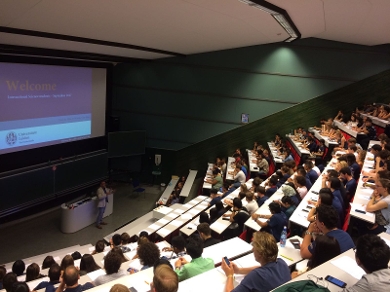 Dutch lunch
Next on the introductionary programme were words of welcome from vice dean Han de Winde and an expose from the Science Career Service about career opportunities in Leiden. PhD student Amedeo Bellunato talked about how he first arrived at Leiden University and the things he appreciates in Leiden and the Netherlands. The assessor concluded the programme, after which the new students were split up into smaller groups to explore the Science Campus. A Dutch lunch with sandwiches and fruits – but without the traditional buttermilk – ended the morning programme.