Signing off after two years
What do you do when you never got the chance to sign your name in the Sweat Room after graduation? Alumni Brantly Hancock and Kent Moore from the U.S. emailed the alumni officer with a request and came back to Leiden two years after graduation, to finally sign: "It's a good feeling!"
From the U.S. to The Netherlands
Leiden University alumni Brantly Hancock and Kent Moore from North Carolina met each other in high school in the U.S. and decided to come to Leiden together to study master's degrees in International Relations and Museums & Collections. They chose Leiden University because it offered both degrees in English and they wanted to get a taste of European culture. Kent now works as a study abroad coordinator in the U.S. and Brantly is starting a PhD position in the fall.
Brantly: "Because we had to be back in the U.S. before the graduation ceremony, we unfortunately missed out on signing our names. So I emailed the alumni officer with my question and I'm so happy we're now getting the chance to finally sign our names in the Sweat Room and close this great Leiden chapter of our lives."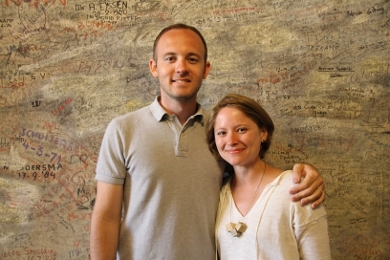 You've been back home for two years now, do you ever miss Leiden?
Brantly: "We love Leiden, we still think about our time here a lot. There's many things we miss. Like café De Bonte Koe, for example. Life is much more community oriented here, which we like. There is a zest for life here that manifests itself so often. Like how happy people get when the weather is nice."
Kent: "Leiden also feels like a city built for humans instead of a city built for cars, which is the case in many other cities."
How was it to finally sign your names, two years after graduation?
Kent: "I never thought we'd still get a chance to sign it."
Brantly: "But it feels very good. It feels like we never really got closure because we had to leave and never had a graduation ceremony, but now finally we did. I think we'll have a drink or two later to celebrate, probably at De Bonte Koe!"
Alumni passport
Brantly Hancock (28)
From: North Carolina, U.S.A.
Studied: Master Museums & Collections
Currently works at: An interactive children's museum, comparable to science museum NEMO in Amsterdam. But Brantly will start a new position soon, she was accepted for 5 different PhD positions in the U.S. and will start her doctorate at the University of North Carolina.
How has studying in Leiden helped your career? "I think I owe my acceptance into so many PhD positions to having studied in Leiden. Many of the people who interviewed me for positions knew about the university and its reputation and were impressed at me studying here."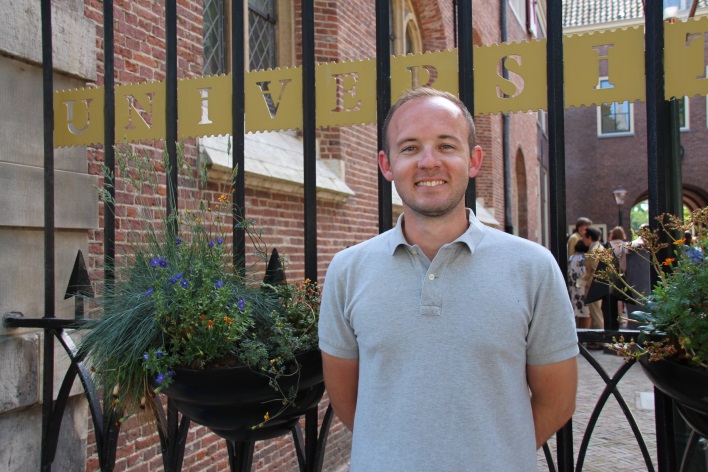 Alumni passport
Kent Moore (28)
From: North Carolina, U.S.A.
Studied: Master International Relations
Currently works at: CISabroad, a studying abroad organization that has affiliations with over 200 U.S. universities. "For the most part I recruit students for our study abroad programmes, but I also arrange the logistics of some of the student trips abroad. The reason why I'm back in Leiden now is because I'm currently arranging a student trip to the International Criminal Court in The Hague."
How has studying in Leiden helped your career? "From studying at Leiden University I took away a much more open world view than I had when I was still in the U.S. To be able to better understand, and be open to, different viewpoints has really helped me in my current position."