Journals Van Vollenhoven Institute digitized
As part of Metamorfoze, the national digitalization project for the preservation of paper heritage, journals of The Van Vollenhoven Institute's library have been digitized.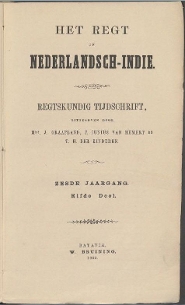 1. Het regt in Nederlandsch-Indië: regtskundig tijdschrift, 1849-1914
2. Indisch tijdschrift van het recht: orgaan der Nederlandsch-Indische Juristen-Vereeniging, 1915-1942
3. Tijdschrift van het recht / Vereniging van Juristen in Indonesië, 1947-1950

The journals are available via the website www.delpher.nl. Delpher is an initiative of the university libraries of Groningen, Leiden, Utrecht and Amsterdam, and the National Library of the Netherlands.