The Netherlands is marching for science
Science is under pressure and 'alternative facts' are increasingly being taken as truth. On 22 April, scientists will let their voices be heard on Museumplein in Amsterdam, for anyone with a passion for science. Zsuzsika Sjoerds is co-organiser of this March for Science and explains why knowledge is of huge value.
Whenever Mr Science Robbert Dijkgraaf appears on the scene, something special is going on. If he is not speaking about quantum mechanics on DWDD-University, he is expressing his view on the the value of knowledge. Dijkgraaf will march in Washington DC, one of the 400 cities that will participate in the March for Science. Because science is not just one of many opinions in the public debate. Science is based on facts and those facts can be verified. The students of Leiden University's Journalism and New Media Master's specialisation proudly call themselves 'fact checkers'. Against the flow of 'alternative facts', they fact checked Dutch politicians' statements in the run-up to the most recent parliamentary elections.
March for Science on Earth Day
Earth Day was chosen for the worldwide March for Science because the day's focus is on the environment. Scientific facts about the environment are under attack more than ever since the new US president Donald Trump started acting against scientific consensus. Following in the footsteps of the women who made their voices heard during the Women's March, scientists, students and concerned citizens will now take a stand in the March for Science. 'Because science does matter, and that is what we want to show on Museumplein in Amsterdam,' says Zsuzsika Sjoerds, neuropsychologist at Leiden University, who is co-organiser of the March for Science NL.
All Dutch universities stand in solidarity
Such a March for Science NL of course requires coordination. Via Skype sessions, Sjoerds and her colleagues have built a 'grass roots' organisation from the groud up in a very short time, with PR, financing and endorsements from, among others, André Kuipers. The VSNU and all Dutch universities, including Leiden University, have now declared their solidarity. The media's attention has been caught. De Volkskrant was the first to report on the initiative and Mare picked it up. 'Shit, we need to say something,' the Leiden University weekly headlined Sjoerds' statement. 'People often don't know what the scientific method entails. We will show what science is all about on 22 April on Museumplein in Amsterdam,' Sjoerds promises.
Milestones in science
We've got lots of plans in the works. Here are a few of them. A Milestone March for children and adults alike that will lead participants along the most significant milestones in science. Several science museums are on our wishlist to offer excellent input. Science historians should be able to contribute even more regarding the impact of knowledge on our lives. Every time you check your cellphone, you are holding the result of that knowledge in your hands. Like 3 October University, we hope to have scientists in teach-in tents explain to lay people what fascinates them. For example, the climate and the sense and nonsense behind assertions about vaccination. Then it's all about objective data that can be verified. Just one month to go to get some well-known keynote speakers, and impress on the Netherlands the importance of science and hopefully motivate more people to take to the streets and let their curiosity lead them in the March for Science NL on Earth Day.
(Banner with logo: designed by Vera Mekern, psychologist with a design degree)
March for Science NL
Saturday 22 April, 12:00 – 16:00 hrs, Museumplein in Amsterdam
Want to receive updates?
To receive updates and sign up for the March for Science NL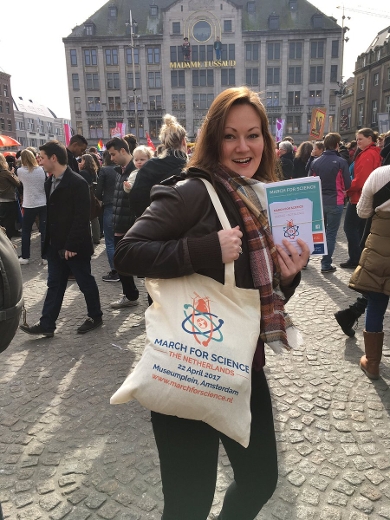 Want to donate?
Would you like to do more? You could donate 5 euros for the March for Science NL
Shopping?
Part of the income will go to the March for Science NL for a freely accessible and effective demonstration.
Online shopping at the March for Science NL