LUC student wins Next Generation Womens Leaders Award
LUC student Imane el Morabit is one of the winning students of the Next Generation Women Leaders Award 2017, presented by the consultancy firm McKinsey & Company.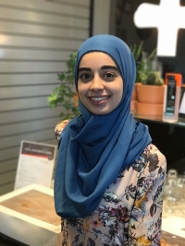 This award comes with a prize of 2,000 Euros (or equivalent in local currency) towards the cost of tuition, summer employment, volunteer work, research, an independent project/entrepreneurial venture, as well as individual mentorship from McKinsey consultants and guaranteed invitations to certain McKinsey events.
Imane took part of the final selection round in Amsterdam, where she had a conversation with McKinsey employees and received a business case to analyse. She said that she really enjoyed the process, and was even told she would be a great fit for the organisation, which of course was encouraging to hear.
Imane acknowledges the importance of women in leadership and the impact women leaders are having on the economy. This is a great opportunity for all winners to shape their personal leadership styles by playing to their strengths, and to understand how to grow their potential.
Imane is currently a second year student at Leiden University College and is also part of the Leiden University Honours Academy. Good luck Imane with all your future projects and endeavours!