Leiden students win international coding contest
Two teams of Leiden Mathematics and Computer Science students have won the golden and bronze medals at an international programming contest with 605 participants. Member of Parliament and ICT politician of the Year Kees Verhoeven congratulated them personally.
Europe, Johannesburg and Los Angeles
The programming contest was played in 15 cities all over Europe, in Johannesburg and in Los Angeles. In total, 605 teams and individual players took part. Leiden University organized the Dutch location of the international contest in Wijnhaven, campus The Hague. Students of the TU Delft and Haagsche Hogeschool participated.
Hyperloop metro
During 4 hours, participants had to solve questions in 8 levels. The topic, a secret until the start of the match, was to set up an optimal travel scheme for a European Hyperloop metro, a vacuum train. At this moment still fiction, but because of the current developments, it could become reality in the future.
Common sense and computer skills
Just the international number 1, team We're having a field day from Leiden University, and the number 2, a team from Romania, completed all 8 levels successfully. The number 3 of the international contest was the Leiden team Bij twijfel meer tuples. Onno Berrevoets from We're having a field day: 'We are very surprised. As we did not succeed in programming all assignments, we calculated a few things ourselves and entered them by hand.' Apparently, the successful coder combines common sense with computer skills.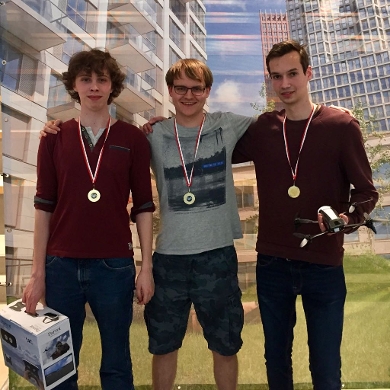 Exciting branch of sports
The contest is organized by the German company Catalysts for years now. Catalysts sends out professional hackers to companies, in order to test their systems. The assignments are always drawn up very well. In a former edition for example, participants had to land a robot on Mars and have it do measurements. The coding contest is a good way to show to students in Mathematics and Computer Science the exciting branch of sports they can end up in after their studies.
Distribution of prizes by Member of Parliament
The Dutch winners received a programmable drone, a game computer and a programmable mini-computer, handed out by Member of Parliament and ICT politician of the Year Kees Verhoeven. He loved to come to Wijnhaven for the occasion. 'I cannot program myself. But I do see the importance of your skills for our society. That is why I try to bring it to the attention of my colleagues.'