New: mentor network – tips for your career
Thinking about what you want to do once you've graduated? Want to know what a particular profession really entails? Ask a Leiden alumnus via the online mentor network. It's free, easy to access and very useful!
'A good initiative', 'Handy if you want some advice about an internship' and 'Good to exchange experiences with an alumnus'. Three enthusiastic reactions from students to the mentor network.
Easy contact
The online mentor network is a low-threshold way for students to get into contact with Leiden alumni. You can search by programme or profession, and your contact with your mentor can be how you want it to be: by mail, over a cup of coffee, or through a company visit. And you will get valuable advice and handy information from alumni.
More than 600 mentors
You can choose from more than 600 mentors from different study backgrounds and professions, who are all happy to give students advice. Thinking about career options early in your studies means you will be better prepared for your first job. Having contact with a mentor can be a great help.
Making choices
'A good initiative,' says Jos Schouwstra (22). She is studying Asian Studies (master's), a 'really broad' programme. That's what makes it so good; it gives you so many options, from tourism and the business sector to government and museums. But having so many options means it's difficult to make a choice. I think a lot of students struggle with the same problem and they would really benefit from the advice of a mentor.'
Once she has graduated, Jos wants to work as an adviser in the business sector. She could do with some help to achieve that dream. 'It's be great to have some help with things like how to get into contact with companies, and how to make sure you're seen.'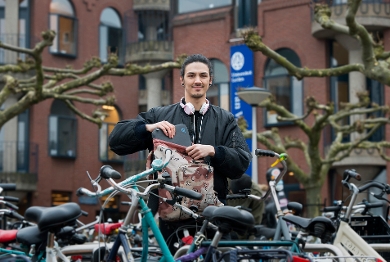 Looking for an internship
Jeremy Diego (23), a student of Film and Literature Studies, has not yet started to think about the job market. 'For me, my job perspectives are less important than the content of the programme. I'm mostly interested in studying something that I really enjoy.' He's considering doing an internship and would welcome some advice from a mentor. 'What I want to know is: what's a good internship where I can put my theoretical knowledge into practice?'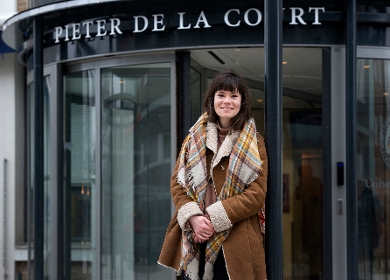 Exchanging experiences
For French-born Fanélie Rérat (24), the start of her career is much closer. She is studying Clinical Psychology (master's) and is concerned about the lack of jobs in her field.
Fanélie hopes that building up a network and taking an internship will improve her changes on the job market. 'I could certainly use some help from a mentor, particularly some tips about job applications. If I have someone to exchange experiences with, I can learn more about the Dutch healthcare system, how patients are treated and the role that ethics plays in this field.'
Sign up
Could you use some advice from a mentor? Sign up for the mentor network.
(Vicky Blansjaar/photos Marc de Haan)
Top 5 career questions:
We talked to twenty students about how to prepare for a job. The most frequently questions asked were:
What career options do I have with my programme?
How did my mentor's career progress and what can I learn from it?
Interview tips, like: how can you make sure you get noticed and what should you focus on in an interview?
Networking? Help! How do you go about that?
How can I find a good internship?
The mentor network is one of the initiatives of the Preparing for the job market project that is running from 2016 to 2018. The aim of the project is to encourage students to think about their career prospects and how they can already start working on acquiring the competences they will need later. This is one of the ways Leiden University helps to prepare students for the job market.