Legal knowledge as a tool to improve human rights
Alumna Nadeshda Jayakody (25) from Australia graduated cum laude in Human Rights Law. What did she learn in Leiden that has been most useful? 'I had to pretend that I already worked for an NGO.'
Where are you from?
'I grew up in Sri Lanka and moved with my family to Australia when I was seven years old. We're not refugees, but I have always had a special interest in the position of deprived people. I did a lot of volunteer work in Australia, helping refugees, for example. My family lives in Sydney and I decided to take a bachelor's in Law there because I want to use legal knowledge to help people. There are not many possibilities for a master's in Human Rights Law in Australia. Apart from that: a master's in Australia is very expensive and costs about 30,000 Australian dollars (around 21,000 euros). That's why I looked for a master's abroad.'
Why did you choose Leiden?
'Before my search, I had never heard of Leiden to be honest. But when I checked the European universities, Leiden stood out because of its good study programme in International Human Rights Law and its good reputation overall. That's why I applied for a Leiden Excellent Scholarship - and happily I received the grant!'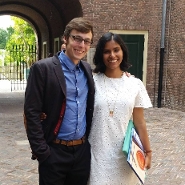 What's different here compared to your university in Sydney?
'I liked the relatively small teaching classes in Leiden with about 15 students – in Sydney it used to be 30. The smaller size made it possible to speak with the professor and ask a lot of questions. And of course the distances are so small in Leiden. Back home in Sydney I had to commute from my family house for an hour to get to university. In Leiden I lived in a student house and I could walk through the historic city centre to university. I really enjoyed it a lot here. The only thing I regret is that there were no Dutch student in my master's – they came mainly from other European countries. But fortunately I made Dutch friends in the local volunteer group of Amnesty International.'
What did you learn in Leiden that you still find useful today?
'The master's in European and International Human Rights Law has a good combination of both theoretical knowledge and practical skills. That helped because it prepared me for a job in this field. For example, I had to pretend that I worked for an NGO and did research on violence against women. I wrote lots of papers and had to present them in front of an audience. So I learned how to do research and how to communicate about it, both of which are very valuable skills for my career.'
What are your ambitions for the future?
'I've just finished my internship at the International Bar Association's Human Rights Institute in London. That was a great opportunity and now I'm about to start my next internship at the Bingham Centre for the Rule of Law.
Hopefully I will find a job in a developing country. I'd also like to go back to Sri Lanka because a lot of work needs to be done there to improve the legal position of people. Happily I still have strong ties with Leiden University: I am still in touch with Leiden professors and fellow students and can always ask them for advice if I need it.'