Rush hour in the Academy Building: record number of PhD defences
A record number of 417 PhD candidates defended their theses in 2016. How many of these were cum laude? What were their propositions? The advantage of dirty nappies, for example. Read about the facts and figures on PhD defences in 2016.
Increase of almost a quarter
It was often rush hour in the Academy Building in 2016, with a steady stream of nervous PhD candidates who an hour and a half later joyously raised a glass with proud relatives and friends, while the next candidate arrived complete with entourage. There were a record 417 PhD defences in 2016. This was 334 in 2011, with numbers rising since. An increase of almost a quarter in six years.
Cum laude, male-female, country of origin, age
Male PhD candidates were just in the majority in 2016 with 220 men to 197 women. Twenty theses were awarded cum laude honours (six women and 14 men). Forty-four percent of the PhD candidates came from abroad, coming from all round the world: from Albania to Zambia. China produced the most PhD candidates (25), followed by the United States (13). Small countries such as Brunei and Timor (both in South East Asia) were also represented with one PhD candidate. The youngest candidate was 25 years old and the oldest 64.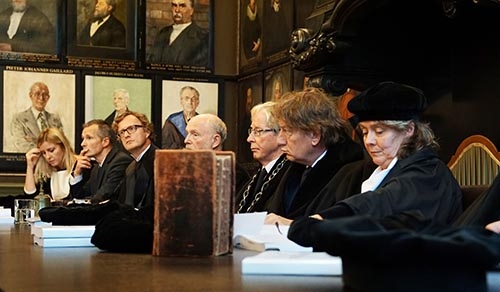 Medicine in the lead
As usual, the number of PhD defences differed greatly by faculty. This relates to the size of the faculty and the PhD tradition in the disciplines. The Faculty of Medicine took the lead with 145, followed by the Faculties of Science (121), Humanities (72), Law (33), Social and Behavioural Sciences (29), Archaeology (12) and, our youngest faculty, Governance and Global Affairs (5).
Propositions: from conclusions to dirty nappies
PhD candidates in Leiden must include a loose sheet of propositions in their theses. Most of these must be about the content of the thesis, but the last few can be about lighter topics. In 2016 many candidates wrote about working on their theses: 'A dirty nappy is just the tonic for PhD stress,' wrote physics candidate Bastiaan Florijn. And Malaysian biology candidate Zarinah Waheed wrote: 'Riding a bicycle is like writing a thesis; there is joy in the journey.' Many candidates also used quotes from famous writers or scientists as a pronouncement, but the Doctorate Board found that too easy, as Carel Stolker explains. 'That will change from 8 February 2017, our Dies Natalis. Then PhD candidates will only be able to use quotes as a proposition if they put their own spin on them.'
Proposition during the defence
PhD candidates sometimes have to defend their propositions during the defence. One such candidate was Achmad Adhitya, 'grandson-in-law' of Habibie, the former president of Indonesia. Given his influential in-laws Adhitya offered an interesting proposition: 'Policymakers make better decisions if these are based on scientific evidence. Integrating science and politics is a crucial factor in progress.' It was about this proposition that one of the Board members asked a last question during Adhitya's thesis defence. What about those politicians who think that science is 'just an opinion'? Adhitya immediately referred to Habibie, who was also present in the Senate Chamber. 'Some politicians, like my wife's grandfather, believe that technology and science are good for society.'