Samuel Jong wins MSc Thesis Prize 2016
Samuel Jong has won the Institute of Political Science MSc Thesis Prize 2016. With 'Bridging the Gap: Do Ideological Differences Determine Whether Center-Right Parties Cooperate with the Radical Right?', Jong completed his Political Science master studies. His research findings, according to the jury, are 'of significance for both the theory and practice of politics'.
Open minimal range theory; one versus two-dimensional political competition
Jong investigated potential government cooperation between radical right-wing parties and centre-right parties in Western Europe. He tested the accuracy of the open minimal range theory—asserting that the 'ideological distance' between parties determines which parties will form a coalition—vis à vis other theories. Furthermore, he explored how the accuracy of the open minimal range theory is affected if a two-dimensional model of political competition is used instead of a one-dimensional model.
Jong's findings show that open minimal range theory outperforms other coalition theories in predicting potential government cooperation with the radical right. Furthermore, he finds that policy-oriented coalition theories—which take into account ideological considerations—are much more successful in predicting formation processes than office-oriented theories, which do not do take into account policy. Rather unexpectedly, it appears that the one-dimensional model of political competition proves to be more accurate than the two-dimensional model, calling into question the assertion that political competition nowadays takes place along more than one dimension. Thus, according to the jury, Jong provides a 'meaningful contribution to the longstanding academic debate on the dimensionality of political competition'.
'Research at a high academic level'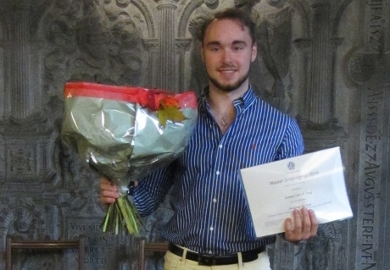 Bridging the Gap: Do Ideological Differences Determine Whether Center-Right Parties Cooperate with the Radical Right?, supervised by Maria Spirova and Ingrid van Biezen, shows 'ambition, mastery of the academic literature and ability to execute research at a high academic level', says the jury report. 'The findings have consequences for the way we conceptualise party competition and are of significance for both the theory and practice of politics.'