Professor Cleveringa 'back' at Leiden Law School
On Friday 25 November 2016 the daughter of Professor Cleveringa, Mrs Ten Kate-Cleveringa, presented Leiden Law School with a magnificent bronze bust sculpture of her father.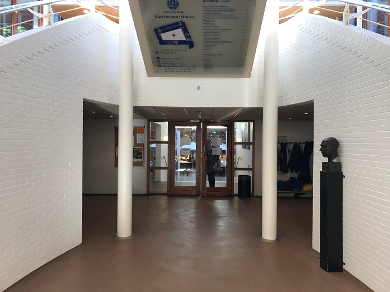 Symbolic location
Professor Joanne van der Leun received the bust in the presence of the new Cleveringa professor Liu. The bust has been given a special location in the Kamerlingh Onnes building. The intention is to place the bust opposite the statue of Professor E.M. Meijers. They symbolise the ideology behind Praesidium Libertatis (Bastion of freedom) and provide a continual source of inspiration to our students and academic staff.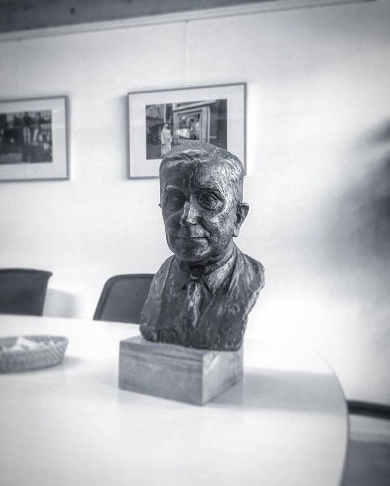 Professor R.P. Cleveringa
Professor R.P. Cleveringa (1894-1980) was appointed by Leiden University in 1927 as Professor of Commercial Law and Civil Procedural Law.
In 1939 he became Dean of the law faculty. When the German occupier in 1940 began removing Jews from public positions, Cleveringa gave a speech on 26 November 1940 in which he protested about the dismissal of his Jewish colleagues, including Professor E.M. Meijers. As a result of this protest, Leiden students called for a strike which led to the university being closed down by the occupying forces. Cleveringa, as he had predicted, was promptly arrested and imprisoned. He survived the war and in 1945 resumed his work as a professor until his appointment in 1958 at the Council of State.
In his speech, Cleveringa gave shape to the university's motto - Praesidium Libertatis (Bastion of freedom) - in a most remarkable manner. To honour him Leiden University has set up a special Cleveringa chair. Each year on 26 November lectures are held at the Academy Building and other locations throughout the world to honour the speech given by Cleveringa.