Sitting room as oasis for refugee students
A large table with tablecloth, a sitting area with soft lighting. A new meeting place in Plexus for students from a migrant background, opened on 6 October. It's has a homely atmosphere, which is just what these students are looking for.
Lesage Munyemana's idea
The idea for the sitting room came from Lesage Munyemana, a refugee from Congo and Leiden biology student, who gave an impressive speech at the opening of the academic year. He knows from personal experience how diffuse the education system and all the relevant procedures can be in a foreign country, how you can get lost in the maze of rules and regulations. Munyemana himself found it a struggle and it took a lot of perseverance to find a way through. He determined that things should be different for future students; not just different, but better, he told his audience on 6 October.
Open on weekdays
Leiden University has around 120 students with a migrant background, a number that is expected to rise. In the sitting room they can study, work on their language, exchange experiences and help one another. The sitting room is open Monday to Friday from 16.00 to 20.00 hrs. Ynette Caupain, student adviser at Student Affairs, will be on hand every day to talk to students.
Job Cohen
After Munyemana, the next speaker was Professor Job Cohen, Chairman of the Supervisory Board of UAF, the organisation that supports refugees who want to study, by providing scholarships and loans. Last summer, Leiden University signed a covenant with UAF on the reception of refugee students. The aim is to improve the position of highly educated refugees. Both parties aim to help them improve their language skills and eliminate any study arrears they may have. The new meeting point at Plexus will help them feel at home during their studies. 'We shouldn't forget that these students carry with them memories of the wars they have experienced,' said Cohen, adding, 'The world is changing; integration has to come from both sides.'
Finding out about Dutch education
Cohen was followed by Nour Fattouh, an engineer and lecturer from Syria. She is taking part in The Mobile Educator, a programme of ICLON and Dutch Academic Services, headed by Henk Frencken, that informs refugee lecturers from Syria about the Dutch education system. 'There's an extremely low drop-out rate in this programme,' Frenken commented at the opening of the sitting room. The Mobile Educator doesn't provide the refugees with a qualification. 'Together with the UAF, we are looking at whether we can offer a track for Syrian lecturers in chemistry, physics and maths that will lead to an advanced teaching qualification.'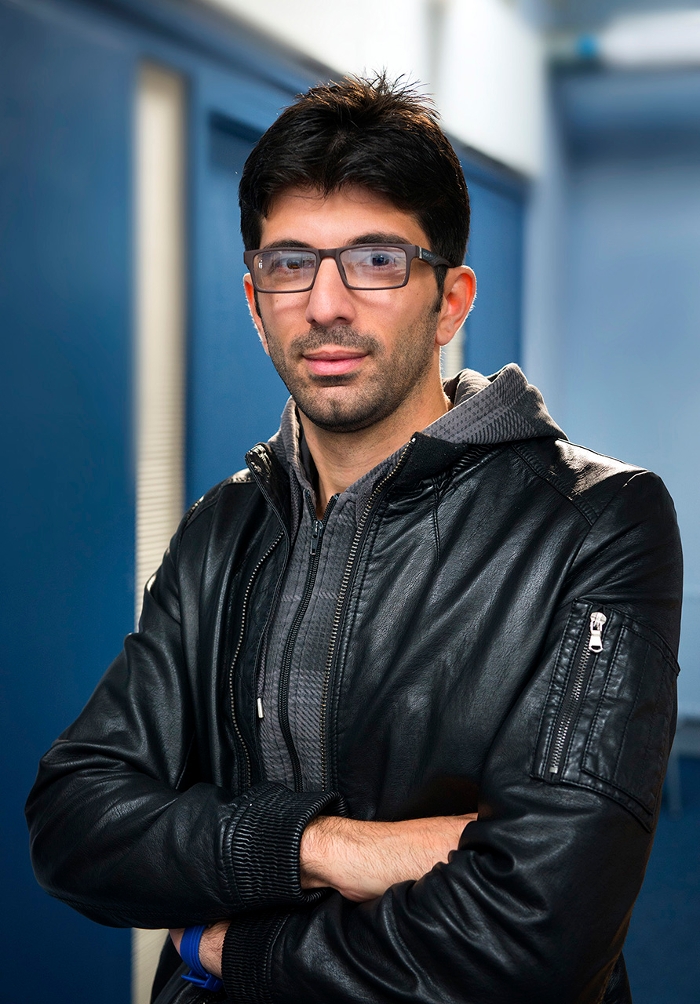 Passionate about teaching
One of the participants in The Mobile Educator is Moaz Badwan, who lives in The Hague. He taught English at a senior school in Damascus, and has lived in the Netherlands since 2014. He is passionate about teaching and wants to stay in the education sector. When asked about the biggest difference with teaching in Syria, he answers: the infrastructure. We didn't have the tools there to introduce blended learning, for example. It's a subject he's now learning about. Badwan says he is grateful to be in the Netherlands and to be taking part in this programme. He feels at home here. 'But my family is in Syria and I do miss them.'
LU Card as symbol
Rector magnificus Carel Stolker officially opened the sitting room by handing student Munyemana a LU Card and a key. A symbolic gesture because you don't need the card to move around the University, Stolker explained. He also explained that it was actually Munyemana's own card, that he had borrowed and was now returning. In any event, the sitting room is now officially open.