First diplomas for International Bachelor in Psychology
Around 50 students have graduated from the new International Bachelor in Psychology (IBP) programme within three years. Inspiring speeches sketched an image of what it is like to study Psychology in an international classroom. Three international pioneers talk about their choices. Lecturer Janice Sandjojo cannot hide her pride.
Alyson Henry-Tabacchini (USA): 'The atmosphere in this diverse and unique group of students'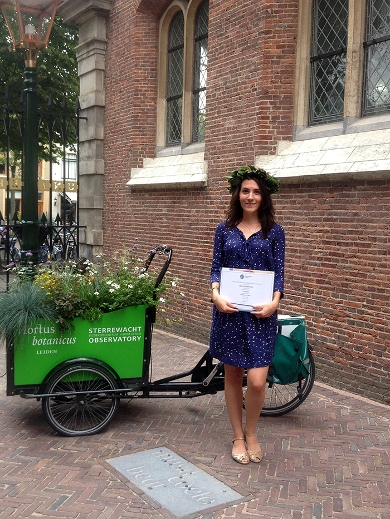 Alyson Henry was attracted by the idea of studying with other international students. She also thought that an International Bachelor in Psychology (IBP) would give her the edge when applying for a master's at other universities. For her, it was the international vibe that was most important. Alyson: The best thing about the IBP in Leiden is the atmosphere that develops when you are studying with such a diverse and unique group of students.' Alyson is now taking a gap year to finish her internship and teach yoga. That will give her the calm she needs to decide which country she wants to go to for her master's. Will it be America or closer to home and her family in Italy? Italy is where she ultimately hopes to work as an independent psychologist.
IBP expedition
Janice Sandjojo, lecturer in neuropsychology, cannot hide her pride. The usual, but more than justified superlatives are a prelude to the presentation of the bachelor's diplomas. Many new bachelors can return to their seats in the Great Auditorium of the Academy Building having received a diploma 'With distinction'. Just three years ago, in the same spot, they were welcomed by Vice-Rector Simone Buitendijk: 'IBP is a journey that we are starting on together.' At the start, it might have felt like having to climb the Mount Everest, Sandjojo reflected, 'But, this is called the NETHERlands for a reason, our highest 'mountain' is just 322 metres. So hopefully, it was not as difficult of a climb as you thought it would be. On your way up, you might have even picked up a bit of Dutch or learned to ride a bike with a passenger on the back and two shopping bags on the handlebars.' The real IBP expedition is more about a mountain of books and articles, papers, presentations and exams.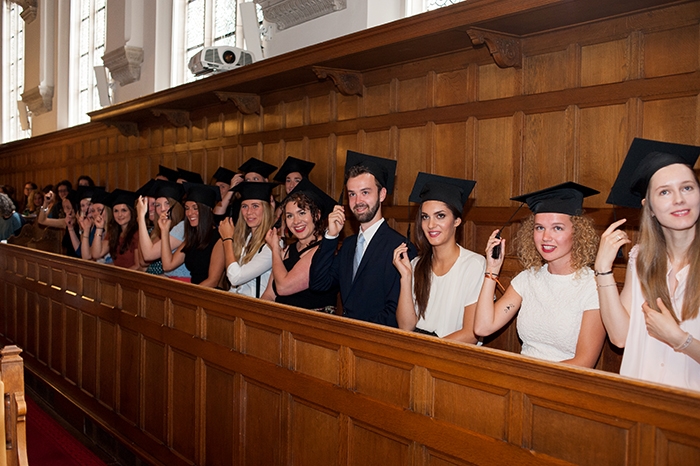 Sjoerd Dobbinga (Netherlands): 'Some of the lecturers still say "Hi".'

'Studying with students from all kinds of different countries was what immediately appealed to me,' Sjoerd Dobbinga explains. He found the group of international students more close-knit because the IBP is a much smaller class than the Dutch bachelor's. It's also a good preparation for a career abroad. Sjoerd: 'Psychology in Leiden has such a wide variety of specialisations that you can go in so many different directions later.' Most of the lecturers are very accessible and really interested in their students. Sjoerd: 'That really struck me. Some of the lecturers still say "Hi", even though I only took one or two subjects with them.' He is now starting the Master's in Health and Medical Psychology in Leiden. 'First I'm going to focus on my master's, and then I'll see what happens after that.' (Photo banner: Sjoerd Dobbinga in the middle of the IBP students in the Academy Building.)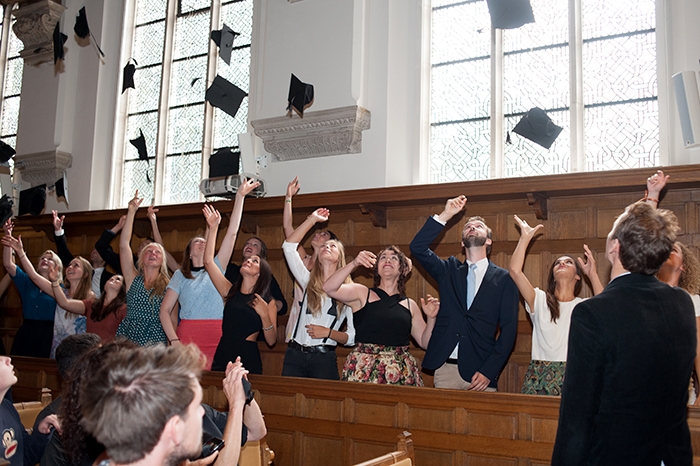 Fantastic journey
Sandjojo is herself well aware of all the knowledge and skills that a graduate of Psychology has acquired after three years. And the lecturers have also learned a lot from the critical questions posed by their IBP students. Sandjojo: 'You have broadened my outlook and helped me raise my game as a lecturer to a higher level.' The lecturers described their IBP students as: driven, committed, motivated, eager to learn, assertive, social, creative and mature. With comments like these, the new graduates all deserve a pat on the back. 'It was a fantastic journey on the way to your next destination. And your commitment, passion and enthusiasm will definitely get where you want to be,' was Sandjojo's message to her students.
Alexander Skowron (Germany): 'New perspective on psychology research'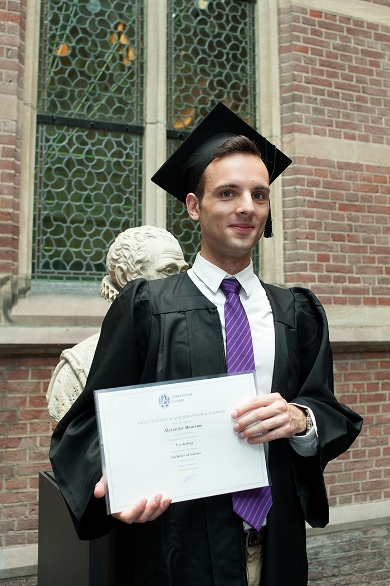 For Alexander Skowron, the International Bachelor in Psychology (IBP) was the ideal combination of studying abroad while meeting students from all parts of the world. 'Not only that, in an English-taught programme you're forced to improve your language skills, particularly if English isn't your native language.' The programme is also well structured. In the first year you have an overview of all the different sub-areas of psychology. Once you have that basic grounding optional subjects in the second and third years give you the opportunity to choose a more specific profile.' It was the bachelor's project in the third year that most appealed to Alexander's scientific interests. And he was able to apply his knowledge from the statistics courses in a real-life research case. 'I learned a lot of practical skills in the bachelor's project and gained a new perspective on conducting psychological research.' He now has Berlin in his sights, the Vrije Universiteit there, for a master's in Neuroscience. After that he wants to continue with research, at a university or a private institute. He's also interested in a PhD position.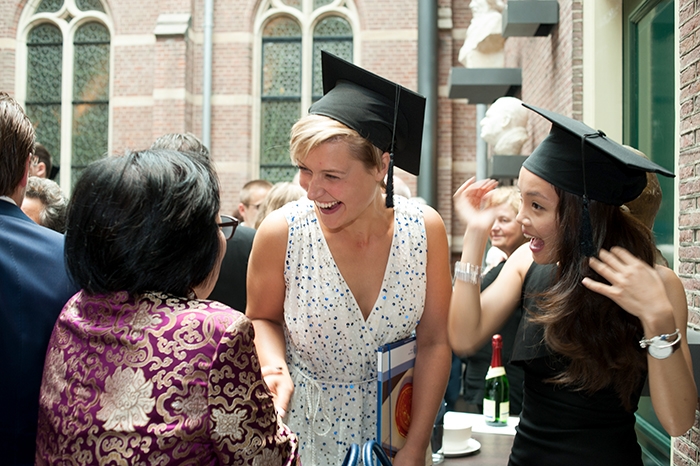 (6 September 2016/ Mardet van Gennip)
The first group of students from the International Bachelor in Psychology (IBP) were awarded their bachelor's diploma on 2 September 2016. Fifty students completed their programme within three years. In 2013 around 100 students from 25 different nationalities were the first group to start the new English-language variant of the bachelor's programme in Psychology. Leiden University welcomed a new group of 130 international students on 5 September from more than 30 different nationalities for the International Bachelor in Psychology.