Palaeolithic fieldschool Barnham UK 2016
This summer seven students from the Faculty of Archaeology crossed the North Sea to assist in the British Museum excavations at East Farm, Barnham, Suffolk, UK – a Middle Pleistocene site. Together with five students from the UK they went through many stages of fieldwork, from scooping the English weather from the pits in the morning to trawling, sieving and find registration.
Archaeology
The site contains two flint industries, Acheulien and Clactonian. By measuring dip and orientation the archaeologists hope there will be light shed on the taphonomy as well as the stratigraphy of this site. To be able to see the bigger picture, a day with a tour along comparable sites in the vicinity like Hoxne and Warren Hill was illustrated by on-site lectures by Dr Simon Lewis and Dr Nick Ashton.
Zoology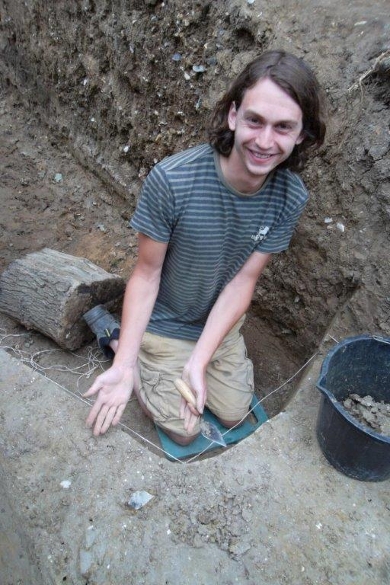 In the deeper part of the channel that is the excavation area, a concentration of faunal remains has been found. This year again animal species like pond terrapin (Emys arbicularis) where found that indicate a milder climate in the UK than is the case today.
Botany
Coring deep into the sediments lead to the discovery of an organic layer that yielded a fruit of Potamogeton (an aquatic plant). Further plant macrofossil investigations of this horizon will result in a detailed, local reconstruction of the environment at the time of deposition.
Cultural experience
The days off during the three weeks' campaign were used to sniff English culture in East Anglia; in Cambridge the Archaeological Museum was visited, and a week later the Medieval festival in and around the Norwich Castle Museum provided well deserved relaxation.
Visitors
To complete the field school visitors, including Prof. Chris Stringer and Dr Charles Turner, delivered talks during tea breaks about their field of expertise.