Medical student wins bronze medal in Rio
Boudewijn Röell, Leiden medical student and rower with the Asopos rowing club, has won a bronze medal with the Dutch Rowing Eight at the Olympic Games in Rio.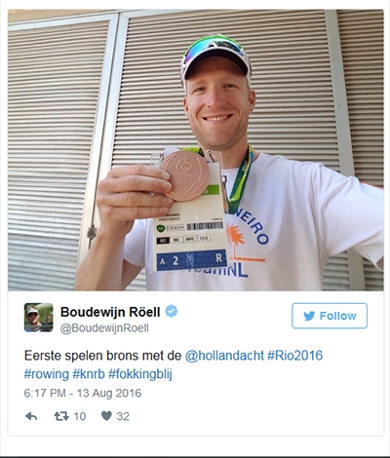 Proud
'We are proud of Boudewijn. It was amazing to hear how many LUMC-ers watched the race live on TV on Saturday. Everyone felt the excitement. Working intensively towards this moment over such a long time and then winning the gold medal, that really is a top performance. Boudewijn is a true ambassador for our students,' commented Pancras Hogendoorn, dean of LUMC. Röell's rowing club Asopos, that he's been a member of since 2006, proudly announced his performance on their website. 'He is the first Asopos member to take part in the Olympic Games and we'll be celebrating his bronze medal for a very long time to come.'
Race for silver
The Dutch Eight started the final race on Saturday 13 August at around 16.30 hrs. Earlier in the week a second chance had given the rowers a place in the final. At the start of the race Great Britain surged ahead. During the second half the Netherlands was fighting for the silver medal, but just before the finish the German boat slipped past them. The Dutch rowers ended with a time of 5:31.59, Great Britain and Germany were 5:29.63 en 5:30.96 minutes respectively.
Elated
Röell said after the race that his team had tried right up to the last seconds to close the 'few metres distance' from the British team and that he was elated about his team's performance. Following the award ceremony he posted on his Twitter account a photo of himself showing off his bronze medal. He wrote that he was 'fokkingblij' to have achieved this result at his first Olympics with the Dutch 8.