Dealing with the Dutch
Learning to cycle without a handbrake, saying sorry if you're late for a lecture and fathoming out the weird sounds of Dutch. Leiden's new international students get a crash course in Dutch culture during their introduction week. 
Lecturers are very approachable
'Prostitution, abortion, euthanasia, soft drugs, homo marriage.' Some of the Asian students are visibly surprised to learn from speaker Kees Linthorst just what the Netherlands has legalised. Dealing with the Dutch: this is the theme of the third day of the Orientation Week Leiden for more than 1,140 students from all parts of the world. Linthorst, who works at Leiden's Academic Language Centre, explained to the students the egalitarian nature of Dutch society. One effect of this is that the lines of communciation between students and lecturers are short, and lecturers are very approachable. If you arrive late for a lecture, don't beat about the bush, but just say sorry. It's not a culture of honour here.'
From Australia to the Netherlands
Adriana To, a student of Law from Australia but with Chinese roots, also notices the open attitude of many Dutch people. 'The people are direct, but very helpful. I wanted to go to a country with a different language and culture. It's not so very different from Australia: Australians are relaxed too. But everything here is much smaller and at first I was overwhelmed by all the thousands of bikes.'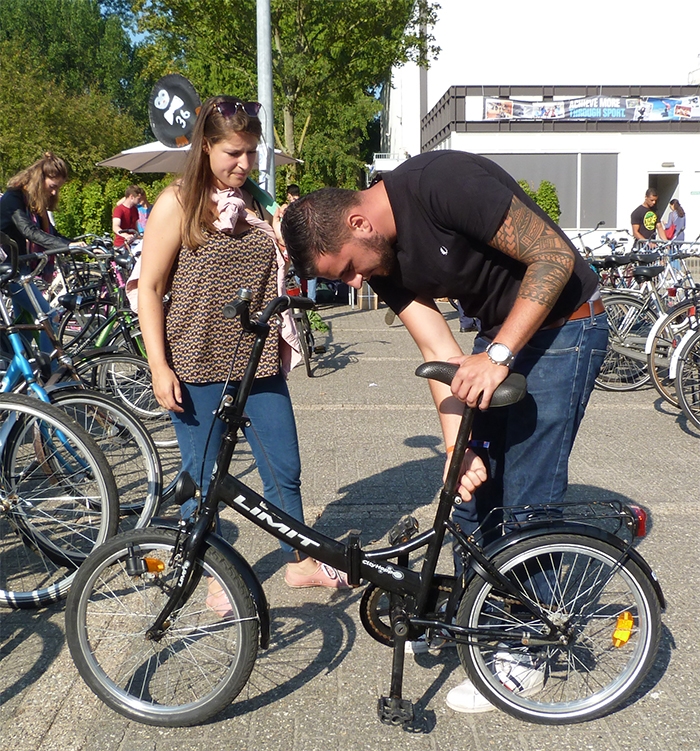 Sea of cycles
The new students soon start contributing to the sea of cycles. At the Dealing with the Dutch day they can buy a second-hand bike at the bike market at the University Sports Centre. Several of the students new to cycling try out their new bikes, with a few tentative wobbles. 'Many of them haven't cycled since they were small children and a back-pedal bike is completely new to them,'one of the bike-sellers remarks.
Abstract maths
Alessandro Danelon from Italy has just bought a racing bike that's at least 30 years old: you don't need a scooter here. 'The big difference from Milan is that Leiden is a lot smaller and students here are a much bigger part of the population. That's an advantage because the city is more geared towards students. A lot of practical things are easier to organise here. Finding a room wasn't easy, though, but luckily I've now found a nice student house in the centre close to the Pieterskerk.' Whey did he choose Leiden? 'I'm mad about abstract maths and I can study it here. Not only that, some of my friends from Italy have been here and they advised me to study here too.'

Questions about Brexit
Besides cycling, a trip by water also has to be part of the acculturatin course. Anthropology student Katie Sandels from the UK is exploring Leiden's canals by boat with her group. She's been asked about Brexit - which she regrets - so many times this week. 'It feels as if I've come to the continent just in time to be able to study easily in Europe. I chose Leiden because of its research opportunities. Anthropology is organising an internship for me in Ghana. I'll be working with the local population there on a sustainability project, but the first couple of months I'll have lectures in Leiden.' The Leiden guide shows her one of the best places to study: the green and leafy Plantsoen, and he advises the group to take the wrought-iron Vreewijk bridge. 'That's the bridge Einstein used to get from his workplace to the Leiden Observatory. You can walk in his footsteps!'