Pax initiative, organizes idealab and presents results to the International Court of Justice (ICJ)
On April 19, Pax Initiative, a youth led NGO, held its first ever event at the Museon in the Hague. The event, "International Court of Justice Idealab: The Future of the ICJ" was a productive and inspiring discussion among students and young professionals on how the Court can reach the 16th Sustainable Development Goal. The ideas that resulted from the day's talks were presented to the ICJ's Vice-president, Abdulqawi Ahmed Yusuf, in a follow up event held on Wednesday April 20th.
For its first event, Pax Initiative created a lively discussion on the future of the Court. During the day, participants were divided into small groups, each tasked with tackling specific questions on how the ICJ can be improved. The energy within Museon was palpable as the participants came up with unique ideas about how to make the ICJ more of a 'world court'. Technology was seen by the participants as a tool which the ICJ can use to increase its visibility, transparency, and accessibility. One of the most interesting proposals that emerged was for the creation of a toolkit about the ICJ as a means to better inform the public and allow people with a lack of resources to learn more about the field of international law.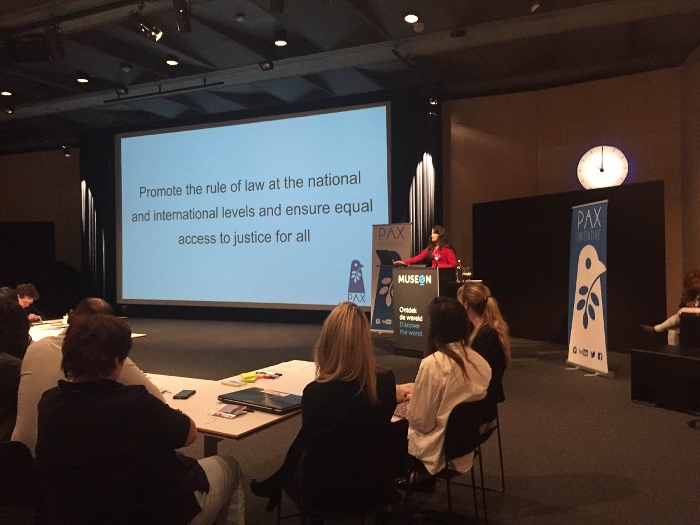 Later, on April 20th, Pax Initiative had a follow up during which the Pax Initiative board presented the findings of each of the groups to Vice-President Yusuf among other distinguished guests. During her speech, Pax Initiative President Zahra Shah made a compelling case to update the ICJ website, and to create a free-online open course about the court, to be created by the ICJ itself. As President Shah stated in her inspiring speech: "Education is mainly the key in improving accessibility." This idea was well received by Vice President Yusuf who, during his candid and personal speech he referred to it as a: "...Very important suggestion… it is our duty to educate the public: students, media and young people about our work..." On this matter, Pax Initiative is currently working to develop a prototype course and website which it is hoping to present to the court in the near future.
Pax initiative is a newly formed NGO initiated by students and graduate students of Leiden and the Hague University. It is an organization created by and for young people in order to harness the power of the youth to accomplish the 16th Sustainable Development Goal. Pax Initiative was partnered with Leiden University, Leiden University Innovation Center, Museon and Hague Talks for the organization of the Idealab.