Students win poll in CSM elective 'Governance of crime and social disorder'
Teacher Dr. Elke Devroe introduces group role-play on actual themes of governance of crime and social disorder. In the final session of the course, the classroom was transformed into a theatric scene where students applied their insight into the contemporary debates on various issues in governance of crime on real and fictional cases. Every group contributed with a role play, including everything from a talk show set-up, to reenacting a US supreme court ruling, and a concluding debate on opinions on the issue. Statements were launched, and students could vote with green and red cards to show their opinion.
This year's batch has been excellent in presenting insightful arguments on sensitive issues within security management, like bootcamps, stop-frisk and search police practices, mass surveillance, control orders and anti-social behavior orders. But after the final vote has been cast, this year's group with their topic of regulating online hate speech came out on top. This has broken a 2 year streak of the topic of mass surveillance holding the leading place.
The starting point of the debate is summarized in the following: "The Internet offers many tools for people to express themselves through, sometimes resulting in hurtful or hateful messages discriminating others without any repercussion. How does a hate speech act behave in an online environment, and what consequences does it have in perpetration of offline violence? Should it be regulated by lawful means, and if no, should it be regulated at all?"
These problems were highlighted through a short roleplay where freedom of choice and expression was problematized by having a niqab-wearing student and her opposing, conservative British counterpart being attacked online through social media during a mock talk show. A set of theories was then applied to the case, explaining why and how people choose to resort to online hatred, and how they learn this behavior on the Internet. The presentation pointed out an existing research gap in studying criminal behavior in new environments that is necessary to address in the future. The final statement, "Online hate speech inspires offline violence," has received an overwhelming amounts of green card votes and a healthy debate where many students shared their insight and opinion on the matter.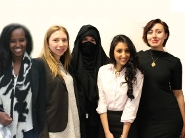 On the picture the winning team:
(from left to right): Sudi Suleiman (Maria), Carmen Alvorado Castro (narrator), Carina Eijsink (a niqab-wearing housewife), Lala Mustafazadeh (concerned conservative housewife) and Lisa Karlsen (talk show host)