Short Update on the Wijnhaven Complex
The building is far from finished, but the former ministry of Internal Affairs is looking more and more like the Academic building for the locations of the University of Leiden in the Hague that it has to become. This week I got a tour behind the scenes of the gigantic project, where I was able to see the concrete building being turned into the social hub for students and staff. How are things going with the new building?
1 View from the second floor, now still empty
Large and centrally located: these are some words that come to mind when taking the tour through the complex. The building is centered in the middle of the busy street from Central Station to city center, where it towers high above the grey streets. Right now, there are a lot of white, big rooms, but the builders are working hard to form these rooms into the vision of the architect, and the students and the staff, who will eventually have to make it into their own space. Everything is thought of in the creation of this building. A large roof terrace; a room for the library; a restaurant and a common room for the student associations that are located in the Hague. And, of course, there are two gigantic lecture halls, where soon the stories of professors can be heard.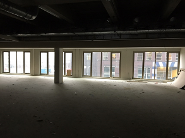 2 Hard work is being done on the main floor
It is only a short count down until the doors are open to us all. After that, it is not up to the builders, but us, to make something beautiful out of the Wijnhaven complex.
Photo's: Nicole Romijn Photography