Students win StrICTly For Business
A group of Leiden Computer Science students, with Simone Cammel, Bas Mulders, Sufeng Li, Edward Magron en Kostas Tsogkas, won the prestigious business game  'StrICTly For Business'.
About StrICTly For Business
The contestants are students from some of the major universities in The Netherlands (Radboud, TU Delft, Erasmus, UvA, VU, Universiteit Utrecht, Universiteit Twente and of cause UvL). The competing student groups are assigned a real business problem with which some of the big companies of the CIO Platform are struggling. They get 10 weeks to solve it.
In order to "solve" their assigned challenge, they need to do proper research (including lots of interviews with various stakeholders) in order to produce (1) a solution poster, (2) a solution document and last but not least (3) a 4-minute-only energizing pitch to a jury of 10 CIO's. The final preparation, fine-tuning and pitch are conducted in a 2-day event in national sportcentre Papendal, in which the teams get additional assistance in pitching and other improvement "tips and tricks", together with some additional sporty fun team challenges.
The Business Case
As you can image, the collective brains of 10 teams of Holland's top universities can produce some exciting and innovative solutions. So all the more reason to be very proud that this year this contest was WON by our own LIACS team! They had a very challenging assignment, issued by CZ (a big Dutch health insurance company) in cooperation with the LUMC (our "own" Leiden academic hospital), which centered around increasing the popularity and usage of the LSP (the Dutch national medical data interchange network, connecting all medical professionals in Holland) while at there same time improving medical data exchange between diabetes patients and their doctors.
This was certainly not the most "sexy" assignment, compared to some of the others (some of which included the use of drones and pineapples), so all the more a challenge to turn this serious subject into an exciting innovative solution and a convincing paper and presentation.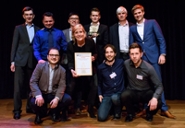 The team
But Simone Cammel, Bas Mulders, Sufeng Li, Edward Magron and Kostas Tsogkas accepted the bate, spend a huge amount of time on it (next to their studies; "the show must go on!"), gave it their best - AND WON convincingly! All three elements produced and judged (poster, project document and pitch) were judged to be of top quality by the very critical professional jury.
LIACS teacher Tino de Rijk was the composer and coach of this team, and during the project we also received very useful assistance and feedback from our two assigned so-called "young IT professionals": LUMC's Maarten van Duijvenvoorde and CZ's Bram van Mensvoort.
It was a huge challenge, a lot of work, a lot of pressure (culminating on some extreme scrum/agile-like "sprints" with very-last-minute changes, handed in minutes before the deadline...) - but also a lot of fun, and a huge learning experience. Top Team - Well Done!