The buried 'towers' of Angkor Wat
Just behind the entry gate of Angkor Wat, known as Gopura 4 West, through which every year millions of tourists enter the most iconic temple of the UNESCO World Heritage Site, ground-penetrating radar surveys revealed a set of masonry structures: six 'tower' bases in geometrical alignment, possibly enclosed by a wall of 60 by 150 meters.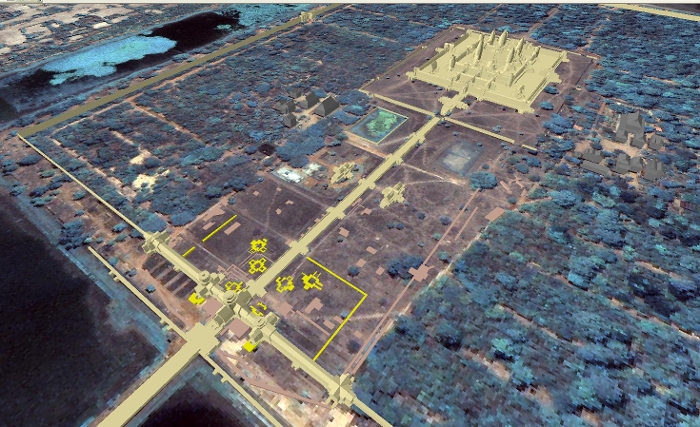 This configuration was previously unknown as the area had not been investigated since the mid-20 th century, when the entrance was cleared of debris.
With the knowledge gained from the geophysics results, archaeological excavations, targeting the buried structures and their connection to the standing monuments, were conducted in 2010 and 2012, providing important information to complement the construction history of Angkor Wat.
Sonnemann, T., O'Reilly, D., Chhay, R., Fletcher, R., and C. Pottier "The buried 'towers' of Angkor Wat." Antiquity Vol. 89, Iss. 348, Dec. 2015, pp. 1420-1438. DOI: http://dx.doi.org/10.15184/aqy.2015.179 Published online by Antiquity: 07 December 2015.