How beneficial is mindfulness? Find out at the Night of Culture and Knowledge!
Mindfulness is all the rage. But what is mindfulness and is this popular form of medication completely harmless? Come to the workshop on 19 September by Chris Goto-Jones, Professor of Philosophy and mindfulness therapist, and find out for yourself.
Wat is mindfulness?
'It's a very old Asiatic form of meditation that has its roots in the Buddhist tradition. Practitioners learn to focus on their breathing and to achieve a state of non-judgemental awareness. You learn to observe and to be in the present moment. The aim is to be able to apply the practice in your daily life so that you are better able to handle problems and stress.'
The number of mindfulness courses is booming. Is that a good thing?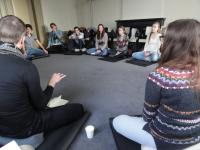 'I am also critical. Many trainers and practitioners present it too much as a panacea for all problems. That creates unrealistic expectations, which can in turn lead to disappointment. Some trainers take it almost too seriously and claim that there is only one right way to practise. Some like to incorporate Buddhist elements, while others do not. I want to demystify mindfulness. There is no single method, and yes, it can be beneficial, but my advice is not to expect too much from it.'
What will your workshop at the Night of Culture and Knowledge be like?
'I'm going to start with a meditation session so that participants can first experience what mindfulness is like. Then we will discuss what effect the meditation had on them; it can vary a lot from one individual to another. Many people do benefit from it, but for others it can be disturbing; they can be overwhelmed by negative emotions and thoughts when meditating. That's why it is so important that the trainer is properly qualified. Unfortunately, this is an unregulated profession, so that's not always the case.'
How active are you as a mindfulness therapist?
'I give a few group sessions a year, for students of the Honours Academy, for example, but that's about it. My main work is as Professor of Comparative Philosophy & Political Thought and I conduct research on mindfulness.'
What are you researching?
'I'm trying to compare the concept of mindfulness in diverse philosophical traditions. I'm researching how it arose in Asian traditions, like Buddhism and Daoism, but also in European contexts, and how it has now developed to become a transnational concept with roots in all these different traditions. I'm also looking at the ethical and political implications. Lots of employers are currently offering their staff mindfulness courses. That can be good for their staff but not if mindfulness is used as a means of pacifying them and if they are taught mainly such things as accepting work pressure. I try to make it clear that my priority is the wellbeing of the course participants.'
Goto-Jones's workshop Happiness in the Void: Mindfulness Today will be in English.
Discover the Night of Culture and Knowledge
The Night of Culture and Knowledge on 19 September is extra special this year because it's the 440th anniversary of the foundation of Leiden University. The city centre will be transformed into a huge stage for art, culture and science. At nine locations and along the route visitors can enjoy music, theatre, lectures, experiments, dance, film, cabaret acts and much more. Keynote speakers include Anton Corbijn and André Kuipers. If you book early (by 18 September at the latest) a ticket costs 15 euros, and from 19 September 17.50 euros.