Leiden students admitted to prestigious Chinese master's programme
Three Leiden students have been selected for the Yenching Academy, a prestigious master's programme offered by Peking University. The students will receive a full scholarship (tuition fees, housing and allowance), and will be following various interdisciplinary courses together with students from all over the world.
Future leaders
The master's programme, described as an Elite Interdisciplinary China Studies Experience for Future Leaders, is an intensive programme that focuses on studying both Chinese history and culture and contemporary issues surrounding China's development. The University offers a group of exceptional international and Chinese students the knowledge about China required to fully benefit from their potential as future world leaders.

Collaboration
Leiden is currently the only Dutch university to participate in the project. Since Leiden University assisted in the pre-selection, we were guaranteed at least two student places on the programme. Leiden is the only Dutch university to offer a programme in China Studies and it has a long history of collaboration with Peking University. This form of collaboration was a natural next step.
Motivation
However, knowledge of China is not required in order to take part in the programme. Peking primarily wants students to be motivated and interested in studying and living in China. In Leiden, there was interest from various directions, and the applicants included students from all the faculties.
Impressed
Students could not simply register, but were required to write a personal statement indicating their motivation for taking part in the programme. In addition, every student had to provide two personal recommendations from lecturers. This did not deter the twenty-five students who applied. A Leiden selection committee chose the six best candidates. Peking University must have been impressed because in the end they decided to accept three of the six applications, i.e. one more than was originally agreed.
Broadening her horizons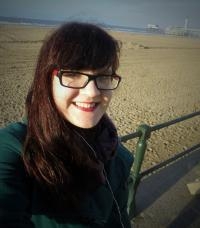 Ugnė Mikalajūnaitė, a Leiden student of International Studies, is one of the lucky candidates to have ben selected. When she heard about the master's programme, she was immediately interested: 'It seemed to me to be such an incredible opportunity to broaden my horizons and deepen my knowledge of China and East Asia.'
Mikalajūnaitė now primarily focuses on politics and government studies, a subject she hopes to learn more about in China. 'I want to understand how China looks at the world,' she says. 'In the West, we never see things from a Chinese perspective, so this is something entirely new for me. I also hope to learn more about Chinese culture, which I currently know nothing about. I want to meet new people and have new experiences. Ultimately I hope that I can use all this later in a career as a diplomat. That is my dream.'
More information
Students who would like to have more information about the Yenching Academy and the application procedure for next year can contact Marieke te Booij.