Tell Balata Archaeological Park project
Tell Balata Archaeological Park project On January 15th the cooperation project of the Faculty of Archaeology with the Palestinian Ministry of Tourism and Antiquities (Department of Antiquities and Cultural Heritage) and the Ramallah office of UNESCO was officially closed. At the same time the Archaeological Park of Tell Balata was opened.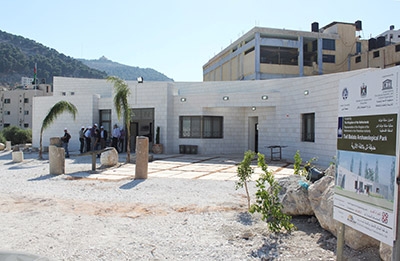 Tell Balata is a famous archaeological site near Nablus. Identified as the historical (and biblical) Canaanite city of Shechem. Partly well preserved with outstanding architectural remains that have been excavated since 1913. Most of the still visible remains date from the Middle and Late Bronze Age (ca 1600-1200 BC), when it was a thriving city, the heart of a city state. However the condition of the site became threatened by growing urban pressure
Because of its history the site has strong social and touristic potential that could give some economic spin-off in due course. The Archaeological Park project was used to rehabilitate the site and make it visitor friendly. Work was funded by the Government of the Netherlands. The MoU between Leiden and the Palestinian Ministry to promote cooperation was signed in 2009, and the Park project started in 2010. Both archaeology and heritage management with community archaeology were key components of the activities, in which students from Leiden and from a local university were trained during the two field seasons, dealing with excavation and community archaeology.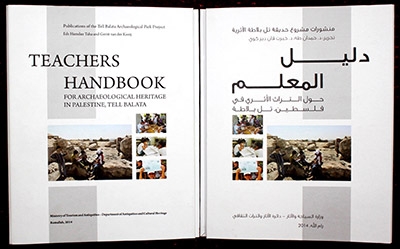 Tell Balata archaeological site Essential results are the strongly improved relationship with the local community (including children) and other stake-holders, as well as a growing tourism industry.

Among the physical results is a vistors centre (so-called Interpretation Centre), with a museum room and audience hall, a key element. Furthermore the creation of the visitors trail over the site and a variety of promotional material are essential.
The newly established large digital archive, including many documents from the old German and American excavations, makes it possible for the Ministry to take custody of the site.
Finally the five book were published. Two of them planned, but the other three grew out of successful specific activities, such as the 'Teachers Handbook'
Books
Stories about Tell Balata, bilingual booklet, from the 'Oral History'-subproject;

Teachers Handbook for archaeological heritage in Palestine, Tell Balata, in English and Arabic versions, from the 'Education'-subproject;

Tell Balata Archaeological Park, Guidebook, in English and Arabic versions, based on hand-outs at opening ceremonies;

Tell Balata Changing Landscape, in English with an Arabic summary – the academic final publication of the whole project;

Tell Balata Archaeological Park; Management Plan, English language manual for the follow-up of the project.