Helen Westgeest Teaching Fellow at the Leiden University Teachers' Academy
In October 2014, Leiden University established the 'Leiden University Teachers' Academy'. Helen Westgeest, who lectures in the BA and MA Art History and MA Media Studies, was put forward by the Faculty of Humanities for appointment in the so-called 'LTA'.
Leiden Teachers' Academy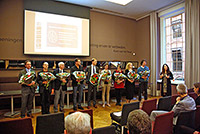 The LTA is an initiative of vice-rector Simone Buitendijk. During the inauguration ceremony on October 27, she explained the main goals of this new institute: 'The LTA aims to improve the quality of education at Leiden University and to innovate education by utilizing the qualities of the best teachers.' The Teaching Fellows of the LTA directly advise the vice-rector, who maintains the quality of education at Leiden University.
The LTA started with ten Teaching Fellows and about five new members will be appointed each year for a period of five years. Finally, the LTA will continuously comprise about 25 members.
Tasks
One of the tasks of the LTA Teaching Fellows is to organize a symposium once a year that aims to stimulate colleague-teachers to discuss both best practices and educational pressure points. The main task, though, of each Teaching Fellow is to successfully accomplish their own project. Each Fellow is asked to propose an innovative project that aims to solve a problem in their own teaching practice, but that may also be useful for colleagues in their own faculty or even in other faculties. The university will invest 25.000 Euros in each project. The projects and the progress reports will soon be published on the LTA-website.
Helen Westgeest's project
Helen Westgeest's project focuses on the development of educational tools for the purpose of the improvement of students' academic skills on both the BA and MA level. She explains: 'The reason to start with this project is the concern of both me and my colleagues that we use criterions to assess academic skills, but that there is a lack of instruction and assignments to train these specific academic skills.' In the first stage, a student assistant will be appointed who will make an inventory of relevant educational tools as well as of the specific needs among teachers and students. Helen Westgeest: 'In the next stage, a group of three student assistants from the fields of art history, didactics, and argumentation, will develop instructions and assignments.' The results of the project will facilitate Westgeest's own seminars, but as pre-fabricated products, the instructions and assignments will also be useful for colleagues and students in other BA and MA programmes, in our own faculty or elsewhere.

Would you like to stay informed about the project, to contribute to it in one way or another, or do you have a question with regard to this project? Please send an email to h.f.westgeest@hum.leidenuniv.nl