Introducing: David Ballantyne
In January 2014, I began working as a postdoctoral researcher in History at Leiden on the NWO project "Democratization and political terrorism: The formation and destruction of the two-party system in the Red River Valley of Louisiana, 1865-1878," where I am studying with Professor Adam Fairclough.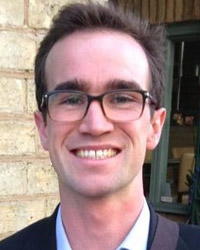 My research investigates Louisianan political developments in the Reconstruction era, with a particular focus on Rapides Parish. Thanks to the survival of a full print run of a local Democratic newspaper during the period, the parish serves as an excellent case study for exploring the difficulty faced by Republicans in translating wartime Unionist sympathies among a substantial number of local whites into postwar party loyalty, and the varied strategies employed by Democrats to regain political power.
Civil Rights movement
Before coming to Leiden, I was a PhD candidate in History at Cambridge University, where I successfully defended my dissertation in December 2013. While at Cambridge I also provided one-on-one teaching for an undergraduate-level course on the history of the United States from 1865 onwards. For my PhD, I examined the political career of the South Carolinian Ernest F. Hollings, a Democrat who served as the state's governor from 1959 to 1963, and as US Senator between 1966 and 2005. Initially a public supporter of racial segregation, Hollings successfully negotiated the political upheaval brought by the Civil Rights movement, and emerged from the 1960s more enlightened on racial issues than many of his southern colleagues. Hollings' career complicates prevailing narratives that privilege conservative and even reactionary political trends in the Deep South during the civil rights era. During the course of my PhD I spent extended periods in the US, where I carried out archival research and conducted numerous oral history interviews.
Lexis-Nexis Congressional database
Though some of the research methods differ, I am confident of making the transition from twentieth to nineteenth century southern US History. At times, the material is surprisingly similar. Thanks to the purchased access to the Lexis-Nexis Congressional database, I can scrutinize Congressional testimony and reports for the numerous investigations into disputed Louisiana elections in the 1860s and 1870s. The testimonies provided in these sources serve as oral narratives of life in Louisiana during the Civil War and Reconstruction, and present similar insights and challenges to the historian as the oral histories employed in more modern research topics.
I am extremely excited about the research and teaching opportunities available at Leiden, and look forward to making the Netherlands my home.