Introducing: Alanna O'Malley
Since August 2013, Alanna O'Malley is the new Assistant Professor for International Studies at the Institute for History, Leiden University.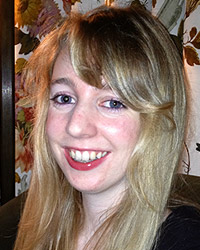 'I began my studies in University College Dublin in 2003 where I undertook a B.A. in History and English followed closely by an M.A. in the History of International Relations. For my Masters thesis I examined Irish Diplomacy at the United Nations during the Congo crisis from 1960-1961.
Congo crisis
Taking up the Congo question in greater detail, I commenced a PhD at the European University Institute (EUI) in Florence in 2007. Completed in 2012, my dissertation examined Anglo-American relations at the United Nations during the Congo crisis from 1960-1964. The focus of my PhD was to examine how the United Nations headquarters in New York became a focal point for British and American foreign policies, as it was the crucible for the clashing of the process of decolonisation with the Cold War. The UN was viewed in three forms as a public space in which nations could act, a multilateral context for the exercise of foreign policy and as an actor in its own right in the Congo. The dissertation revealed new insights into the Anglo-American 'special relationship', exposing the conflict between the two over events in the Congo but also showing how at moments the traditional power balance between them evolved contrary to expectations.
During my PhD, I was selected for an exchange programme with New York University and spent a semester in New York where I conducted research in the UN archives, the National Archives of the United States in Maryland and the John F. Kennedy Presidential Library in Boston.
Upon completion, I worked as a part time Lecturer at the Lorenzo de'Medici International Institute in Florence, teaching an undergraduate course on the Politics of the EU. I also worked as a Research Assistant for the Academic Careers Observatory of the Max Weber Postdoctoral Programme at the EUI.
French Institute of South Africa
In my position as Assistant Professor of International Studies, I will contribute teaching to the core courses of the M.A. programme in International Studies and also teach an elective course on the History of the United Nations. Having been awarded a small research grant by the French Foreign Ministry, I will deliver a lecture in spring 2014 at the French Institute of South Africa in Johannesburg on my current project, which examines the UN as a site of normative transformation during the Congo crisis from 1960-1965.