Introducing: Elisabeth Heijmans
Elisabeth Heijmans is one of the four PhDs in Cátia Antunes' ERC Research Project 'Fighting Monopolies'.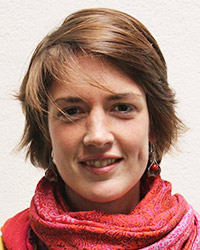 I was born in Belgium and I did my Bachelor in medieval studies at the University of Namur. During my Masters in Louvain-la-Neuve University I studied cultural history of the early modern period. As I had the opportunity to go to Salamanca on an Erasmus exchange for a semester my Masters dissertation focused on Spanish cultural expansion within the Spanish early modern empire and the role that the southern Netherlands played in this expansion. This summer I graduated in History with teaching qualifications.
I am now working as a PhD in Catia Antunes' ERC Starting Grant project 'Fighting Monopolies, Defying Empires 1500-1750: a Comparative Overview of Free Agents and Informal Empires in Western Europe and the Ottoman Empire'. Within the overall project, I will specifically study the French empire and its overseas territories.
I am eager to participate in this project since it will be a real challenge for me to shift from cultural history to socio-economic history. My MA thesis research about networks developed by individuals throughout an early modern empire gave me the desire to carry on research in this field of study. I am interested to build new specific competences in socio-economic history using my cultural background.
Working within a team with other PhD candidates from abroad and put into practice the languages I had the chance to learn makes the project really attractive to me. I am really pleased to be part of this ambitious project in Leiden University.