Inge Ligtvoet in Nigeria
My first fieldwork in Nigeria began up in the air, as we were approaching the runway of Lagos' Murtala Muhammed Airport.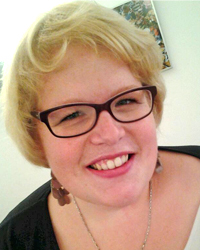 The young man next to me, who had been awfully quiet throughout the flight, took his camera and started making aerial pictures of Nigeria's economic capital at sunset. Clearly emotional he turned to me and said: 'I haven't been here in more than 10 years'. The Nigerian-born man left the country when he was sixteen and now had to return because his friend was getting married. 'Nigeria has changed immensely,' he continued with a strong British accent, 'these days you can no longer go out after 7 pm.'
Nigeria is not safe: a common perception about the country. It is being channeled by Nigerians and observed by in- and outsiders through the (social) media. Being friends with Nigerians and Nigerian news agencies on Facebook means you have to brace yourself for the occasional picture of charred bodies after a Boko Haram attack on a church or partially blurred images of half-naked girls who were raped and killed in the streets of Lagos. The description of insecurity in Nigeria in terms of terrorism, kidnappings and violence might well be a reflection of perspectives of insecurity expressed on these (social) media platforms. So in thinking about duress as the everyday experience of violence and the emotions it encloses, it is easy to consider these major instigators of insecurity in the country as its context.
But while I was listening to the young man in the plane, I kept on wondering whether there is a discrepancy between the insecurity that is expressed through the (social) media and the forms of uncertainty that directly affect the day-to-day lives of Nigerians. Thinking further of the months ahead, I wondered whether the political situation in Cameroon is indeed what informs duress in that country – a country I had never visited before. Apart from the many discussions in the office in The Netherlands about the theoretical definition of the term duress and what it could be, it was now time to understand what its meaning could be practically, in the field. What is it for the people? And is there a difference in meanings of duress among Nigerians and Cameroonians? And last but not least, of course, (how) does religion play a role?
Inge Ligtvoet communicating via the Ipad in Nigeria