2012 Fulbright Scholarship for Peter Siegel
Dr Peter Siegel, Associate Professor in Anthropology from Montclair State University, New York, has obtained a Fulbright Scholarship to participate in research and teaching in the Caribbean Research Group for four months. Dr Siegel will be a visiting fellow in the faculty from February to May 2012.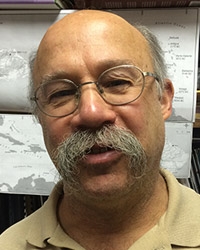 Dr Siegel, one of the leading scholars in Caribbean archaeology, has worked in the region for 25 years. From 1985-1992, he lived in Puerto Rico and worked for the Centro de Investigaciones Indígenas de Puerto Rico, a research foundation specializing in the archaeology and ethnography of the Caribbean and South America. Dr Siegel has conducted archaeological and paleoecological studies across the Lesser Antilles, Virgin Islands, Trinidad, Curaçao, and Puerto Rico. In addition, he has carried out ethnoarchaeological investigations in Guyana and eastern Peru.
Dr Siegel's research has focused most directly on sociopolitical organisation and issues of complexity on Puerto Rico and the Greater Antilles. Since 2007, he has led an interdisciplinary team of researchers in paleoecology and archaeology to address human-land relations in the prehistoric Caribbean. His project in Caribbean historical ecology through the Holocene is providing an important interpretive context to understand interactions between resident and colonizing populations and changes in human-environmental relations. Ultimately, this research will provide a framework to better understand the dramatic social and political changes that occurred over seven millennia of human occupations in the Caribbean.
Dr Siegel will be teaching MA and RMA courses in Blok 3 of 2012.