Marie Louise Sørensen Professor in Bronze Age Studies
The Faculty of Archaeology has appointed Dr Marie Louise Sørensen as Professor in Bronze Age Studies in the European Prehistory research group from 1st September 2012. Prof. Sørensen is a Reader in Archaeology at the University of Cambridge (Fellow of Jesus College).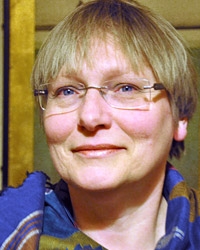 Prof. Sørensen (1954) was born in Denmark and graduated from the University of Århus. In 1985 she obtained her PhD at Cambridge on the transition from the Bronze Age to Iron Age in Scandinavia, mainly based on metal finds in that region. Since her PhD she has held various positions associated with the Department of Archaeology in Cambridge. In 2011 she was appointed as University Reader.
A broad range of interests
Prof. Sørensen has developed broad interests over the years, ranging from Bronze Age studies to gender studies and in recent years especially heritage studies, which is one of her core research topics in Cambridge. She has published several books on these topics and participates in international research programmes in the field of Bronze Age and heritage studies. Among other things, she is a member of the Marie Curie Training Network "Forging Identities" together with the Universities of Århus, Gøtenborg, Berlin, Kiel, Thessaloniki, Southampton and Cambridge.
Fieldwork
In terms of field projects she works together with colleagues from the Forging Identities project on an excavation in Hungary (Tell Szazalombatta), in which Leiden students will be able to participate. Together with her husband, who is the head of the Cambridge Archaeological Unit (the Cambridge version of Archol BV), she also works in the Cape Verde Islands. The last project is in line with the new ERC Synergy Programme of Prof. Hofman.
Education and research in Leiden
From January 2013 Professor Sørensen will give lectures in the field of Bronze Age Studies primarily to RMA and PhD students within the Faculty of Archaeology, as a member of the European Prehistory research group. Her focus will primarily be on the ways in which material culture is used in the construction of cultural identity. This is also the topic of joint collaborative research with Prof. Fokkens and Dr. Fontijn. Both are already working on that theme in their research on barrow landscapes, metalwork deposition, and Late Prehistoric settlements. In collaboration with Professor Sørensen the Leiden team wants to develop this theme into an international research focus.