Archaeologists present Queen Beatrix with research on burial mounds at Het Loo
Archaeologists from Leiden University and the municipality of Apeldoorn have excavated two prehistoric ancestral mounds dating from 300 years BC at the 'Echoput' royal estate. The findings were presented to Her Majesty Queen Beatrix on Friday 2 November.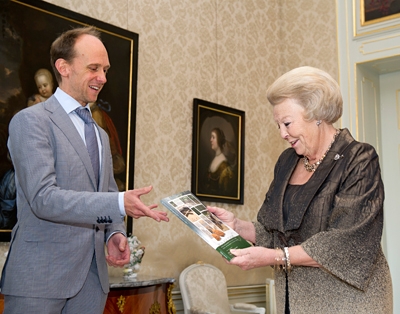 Burial mounds
The woods of Het Loo crown estate are the site of dozens of prehistoric burial mounds, clustered in a more or less regular pattern. Funerary landscapes of this kind are common in Europe; more than 100,000 have been identified in the Netherlands alone. How and when they originated is still unclear. What we do know is that they date from the last three millennia before the Common Era.
The Echoput
To find out more about these burial mounds, Leiden archaeologists headed by Dr David Fontijn carried out a study of two large mounds and the surrounding area at the 'Echoput' in Apeldoorn. Permission for the excavations was given by the royal estate at Het Loo. The work was carried out in collaboration with the municipality of Apeldoorn and the Netherlands Cultural Heritage Agency.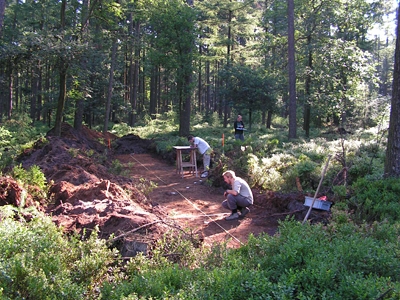 Heathland
The excavations have given us a lot of information, comments Fontijn. The ancestral mounds are at the highest point of a natural hill and are covered with turf. The ground may well have been heathland from as early as the second millennium BC, and was probably used as grazing land for sheep kept by generations of prehistoric people. But around 300 BC the decision was taken to bury an important person from the community at the highest point of this natural hill.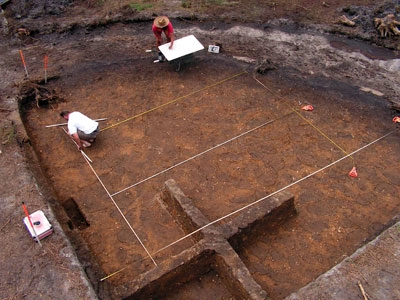 Twin graves
Fontijn: 'We can reconstruct almost exactly how our ancestors managed to build a circular burial mound or barrow, using turfs that weighed up to 10 kilos.' Shortly after the first burial a further person must have died who was buried in exactly the same way. The researchers refer to this as a 'twin barrow'. The similarity of the burial mounds leads archaeologists to draw the assumption that there was a close relationship between the people buried there.
Ritual and economy
The construction of the mounds must have seriously disturbed the landscape, but after just a few decades the ground was again in use as grazing land. Apparently rituals and economic considerations were easy to reconcile in this prehistoric community.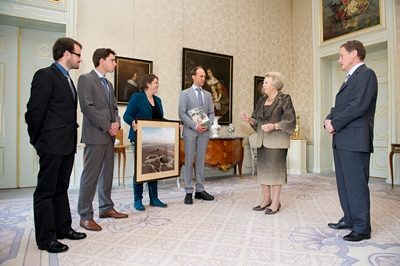 Research and books
David Fontijn and his colleagues published their research in a book entitled Iron Age Echoes, prehistoric land management and the creation of a funerary landscape – The 'Twin Barrows' at the Echoput in Apeldoorn (D. Fontijn, Q. Bourgeois and A. Louwen, Eds, 2011).

For the Leiden archaeologists this excavation was part of a major study into the history and ritual significance of prehistoric burial mounds in Europe. This project, Ancestral Mounds, is financed by NWO.

A book intended for the general public will be published in 2013: Echo's uit de IJzertijd.