Jubilee and Farewell conference of CEDC
Short description about 20th anniversary of CEDC, the fieldstation in Cameroon, and 20 years of cooperation between Leiden University with the University of Dschang in Cameroon.
Jubilee and Farewell conference
A special jubilee and farewell conference of Centre for Environment and Development Studies in Cameroon (CEDC) to celebrate 20 years of collaboration between the University of Dschang in Cameroon and the University of Leiden, The Netherlands, was held at CECD in Maroua, on 2, 3 and 4 November 2010 under the theme: Parks and People – the role of protected areas for sustainable development and ecosystem services
Cultural activities during the jubilee conference called: "Fantasia"
Book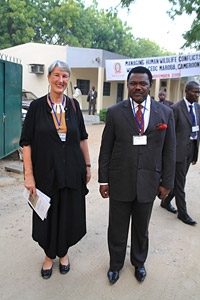 A special book, titled 'Savannah Lancscapes for the future', tells the story of two decades of environmental research, education and collaboration between the two universities. The book, with numerous photographs of Cameroon, has been prepared for this occasion.
The first copy of the Jubilee book was presented to the rector of the University of Dschang, Prof. dr. Anaclet Fomethe by the ambassador of the Netherlands in Cameroon: drs. Saskia N. Bakker
International workshop: Managing human-carnivore conflicts
During the conference, an international workshopunder the theme: Managing human-carnivore conflicts – the way forward, which focused on the management of large carnivore populations in Africa, with special reference to carnivores in Waza N.P. and the Bénoué Ecosystem (Bénoué, Faro, Bouba-Ndjidda NPs, and surrounding hunting zones) took place.
The Large Carnivore Initiative West & Central Africa, aimed at conserving regional carnivore populations (http://www.largecarnivoresafrica.com) was launched during the conference. The workshop at CEDC was attended by more than 60 wildlife professionals and carnivore experts from Cameroon together with experts from Africa and Europe and representatives of the wildlife authorities of Kenya, Nigeria and Benin.