Celebration of 65 years of Independence of The Republic of Indonesia at LEAD
On Thursday, the 4th of November 2010, a joint celebration took place in the Great Hall of the Gorleaus Laboratoria of the Faculty of Science of Leiden University on the occasion of the 65th Anniversary of the Independence of the Republic of Indonesia on invitation by H.E. Dr. Umar Hadi, Vice-Ambassador of the Republic of Indonesia and Prof.Dr. L. Jan Slikkerveer, Director of the LEAD Programme of Leiden University, highlighted by Traditional Sundanese Music and Dance performed by students from different Faculties/Disciplines of LEAD's main counterpart in Indonesia, Universitas Padjadjaran (UNPAD) in Bandung.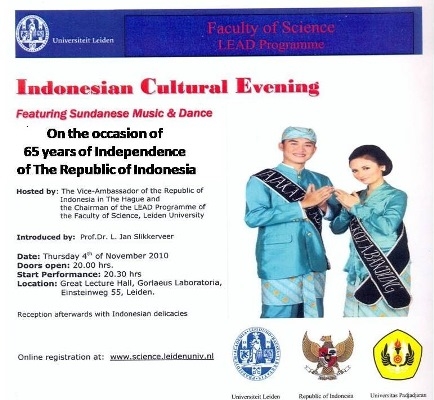 The special colourful repertoire was introduced by Mrs. Wina Erwina MA, and included i.a. Kecapi Suling (traditional Sundanese music), and various traditional dances such as Tari Merak, Tari Jaipongan, Rampak Kendang, Arumba and Anklung, Tari Cikeuruhan and Teater Rama & Shinta, supported by the Istika Gamelan live music.
The unique celebration in the Great Hall was concluded by a joint Angklung performance, followed by special drinks and delicacies in the Reception Hall.