Mosaic subsidies for highly talented ethnic minority researchers
Four of Leiden's young, talented ethnic minority graduates are to receive an award as part of the Mosiac programme of the Netherlands Organisation for Scientific Research (NWO). The award will allow these budding researchers to fund a four-year research period leading to a doctorate.
In all, 20 of the 43 applications selected were honoured. Each candidate will receive 200,000 euro for PhD research. 114 students and graduates responded to a call for research proposals. The 43 best candidates were invited to attend NWO workshops and to develop their ideasfurther. They were then able to present their proposals to an expert evaluation committee.
Example
The aim of NWO's Mosaic programme is to give more graduates from minority groups the opportunity to join the scientific community. NWO hopes that the successful candidates will remain active in the Dutch scientific community and that they will act as an example for other young scientists. Three universities this year each have four prize-winners: Leiden University, the Vrije Universiteit Amsterdam and the Erasmus University in Rotterdam.

NWO also commended a number of candidates who did not receive an award, but who are nonetheless excellent candidates. Last year, this led to several candidates being given a PhD position at a university. At the end of October, the twenty laureates from 2009 will be invited to a presentation ceremony where they will receive a certificate from the Chairman of NWO.
The Leiden projects
Anna Dlabačová (1983) – Literature
Mysticism for a new century
Hendrik Herp was the first major mystic of the fifteenth century and his 'Spieghel der volcomenheit' was a true bestseller. Research into the origin of this manual on mysticism will shed light on the unrecognised popularity and (literary) influence of the work.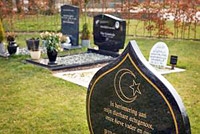 Khadija Kadrouch (1983) – Law/Religious Studies
Islamic Burials in the Netherlands and Belgium?
This research aims to give insight into the present-day legal possibilities for Muslims to be buried in the Netherlands and Belgium, according to Islamic rites. The intention is also to gain insight into the attitudes of Muslim scholars and the wishes of Muslims regarding Islamic burial practices.
Nora Liu (1986) Leiden University and the Netherlands Cancer Institute - Bell biology
Are antibiotics under threat of extinction, or is there hope?
Current antibiotics are threatened with extinction because bacteria are becoming increasingly resistent to antibiotics. A new and promising antibiotic target has recently been identified, namely PKB/Akt1. This research will concentrate on developing better and more selective PKB/Akt1 inhibitors that can be used as new conceptual antibiotics.
Soledad Valdivia Rivera (1985) – Latin American Studies
Re-inventing state-civil society relations in Bolivia
Native president Evo Morales (2006-2009) has introduced extensive reforms relating to the way in which social movements influence decision-making in Bolivia. This research focuses on the most important administrative measures that have been introduced and the reactions of the native organisations.

(22 July 2009/SH)